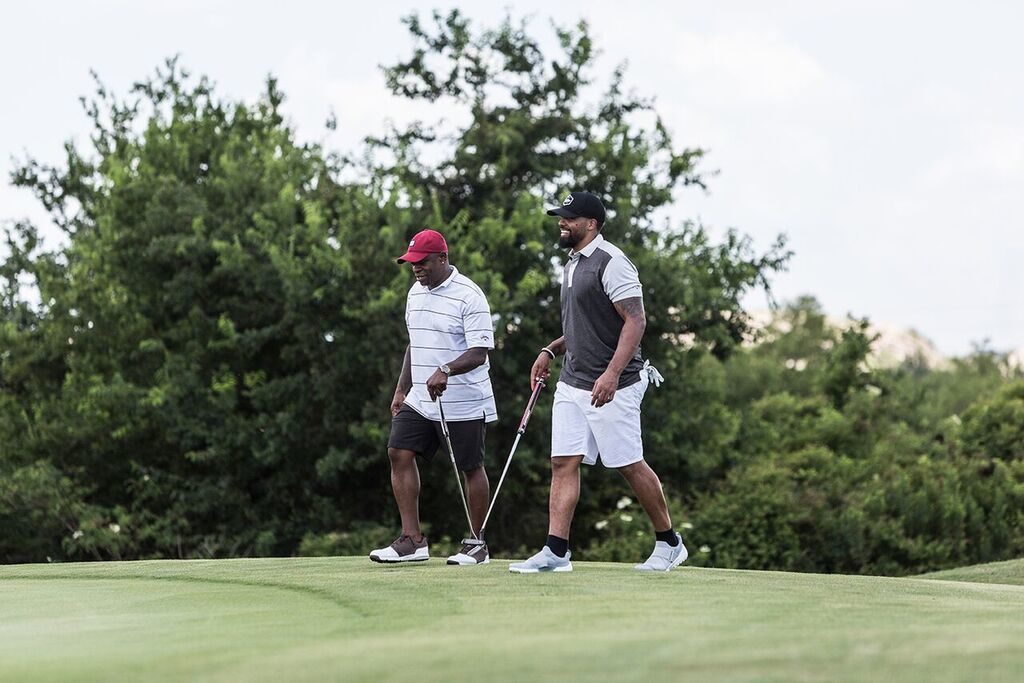 Callaway Golf presents the epic finale to VICE Media produced series Golf Lives, launching October 16th, which brings together two Houston locals, friends, and bona fide legends on the golf course in a tête-à-tête.  Rap icon Scarface and former NFL star Arian Foster built their careers in the studio and on the field, polar opposite worlds indeed, but find common ground on the green.  The duo shares an unbridled love of the game and its unique ability to offer an escape from the confines of one's public identity while allowing for discovery of the individual.  As Abdul Foster, kid brother to Arian notes, "For him, golf is becoming one of those places he can go to find himself again."
There is no greater champion of golf's power to foster connection than Callaway.  CMO Harry Arnett remarks, "Golf is the great democratizer of humanity and sports."  Arnett, a huge music fan in his own right, was adamant Scarface came on board for the series to shed light on the game's broad appeal.  "For them, and millions like them, golf is a passion, both inspiring and challenging.  We invited Arian and Scarface into our world to share with them our passion for the sport, for perfecting our products, and for the innovative technology that helps players get better, faster."
The viewer follows Scarface and Foster as Callaway experts outfit the pair with a custom set of clubs and immerse them into the brand's world of product and performance in preparation for a round on their hometown course in Houston.  Competitive natures emerge but it's all in good fun.  The defining takeaway is a celebration of the sport and its innate potential to form bonds and foster lifelong relationships.
Parts I and II of the popular docuseries were released in October 2016 and 2017 respectively, the first featuring an intimate look into Scarface's life and love affair with the sport, the second featuring Arian Foster through the lens of a similar, captivating narrative.  Director Sarah Rinaldi's vision to relate the men's connection to the sport from a uniquely personal perspective was welcomed by Callaway.  "They allowed us to establish a character and get to the root of who they are without having to worry about products and brand until it was important to the narrative.  That is a real gift because it allows us to create something authentic."
Golf Lives marks a new milestone for the collaborative partnership between Callaway and VICE Media.  Prior to the series conception, Callaway worked with Vice Sports to shine the spotlight on some of the brand's pros like Kevin Kisner, Henrik Stenson, and Michelle Wie, among others.  Seeking to relate to their audience in a deeper way, Callaway, together with their long-time agency THE KIMBA Group, ventured into the innovative format of short film with an aim to represent the brand's aspirational and accessible identity through the eyes of exceptional, highly engaging golf lovers.
Rebecca Rosoff, co-founder of The KIMBA Group, acknowledges the leap Callaway is taking to expand its brand recognition by placing itself at the forefront of this new media frontier.  "Golf Lives may not be a radical undertaking for an entertainment brand, but for a golf manufacturer whose first focus is developing ground-breaking club technology, a docuseries of this type is a bold statement.  It's a commitment to leading the sport and making golf both available and enticing to people of all skill levels and backgrounds."
VICE conceived the idea of profiling Scarface and Arian Foster in their beloved city of Houston, making the locale itself a crucial character to the story.  The series was filmed prior to the devastation wrought by Hurricane Harvey and now serves as not only a love letter to the sport of golf but also to the place both men call home.
Part III is set to launch on Callaway's social, digital and OTT channels on October 16th, 2017.
Source: Callaway Golf