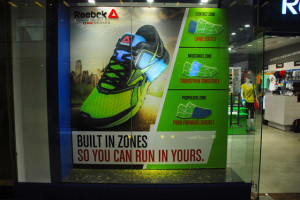 The Reebok One Series is a unique running shoe based on the concept of function-first design philosophy featuring technology you can 'feel'. Built from back to front, the Reebok One Series features "Zoned" technology that caters to the way our feet moves, meeting the demands of runners through each phase of the "Gait Cycle". The Reebok One Series features 3 distinct zones, complementing the runner's needs at the respective phase of the gait.
Reebok wanted to create visibility and awareness for 'Reebok One'. To achieve this, the DDB Mudra Max OOH team decided to cover malls and major traffic junctions of the various cities with specific focus on the traffic junctions, which were near the Reebok showrooms.
The campaign's objective was to urge people to visit the showrooms and try the new Reebok One.
To highlight the USP of the shoe the DDB Mudra Max team came out with the idea of lighting the 3 parts/zones which help the person to land softly, transition smoothly and push forward quickly. The creative idea was to relate the foot movement with the zones in the shoe and the strategy was to take good clear hoardings and mall facades and highlight the 3 key functions of the shoe.
The campaign went live with an innovation done at Sikanderpur (Gurgaon) with the help of sequential lighting, highlighting the 3 parts of the shoe. The OOH campaign got executed with hoardings, unipoles and mall facades at Delhi, Mumbai, Bangalore, Kolkatta, Chennai and Hyderabad covering all the premium malls where they had retail stores.
"Reebok one is a high impact campaign designed to ensure that the consumer gets attracted towards the product and understands how the 3 zones can help a runner. This is being conveyed at every touch point be it retail or OOH. The consumer is introduced to this technology powered shoe in a compelling manner", said Somdev Basu, Brand Director, Reebok.
Commenting on this, Mandeep Malhotra, President, DDB Mudra Max – Outdoor, Retail and Experiential said, "Reebok is a brand which is very close to my heart. We were thrilled to welcome the three layered brief from them and the team did a fantastic job. We have been working hard on DDB Mudra Max being the agency to tell a story on a single frame. This innovative campaign besides reaching out to prospective consumers brought the wow factor back in innovative lifestyle footwear campaigns."