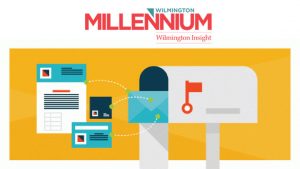 Following the introduction of GDPR in May 2018 close to half (45 per cent of consumers) believe that the mail they receive from brands is now more relevant, new research from Wilmington Millennium reveals.
The retail industry is the best performing sector with 52 per cent of consumers saying that offers and information through the letterbox from retail brands are relevant or very relevant to them. The utility industry, with 51 per cent, was the next most relevant sector. 
Followed by financial services, including banks and credit cards, (49 per cent), insurance (48 per cent) and travel (47 per cent).  Restaurants and bars (42 per cent) automotive (37 per cent) and charities (37 per cent) were found to be the least relevant.  
18-24 year olds were the most likely to find the direct mail they receive very relevant to them, whilst the over 55s tended to score most highly in the 'not at all relevant' category for each of the sectors surveyed.
The research also shows that only one in seven people (16 per cent) think that the mail they receive from retail brands is not at all relevant. This compares to almost a third (29 per cent) of people that find automotive mailings irrelevant.
On average 21 per cent of consumers believe direct mail is irrelevant which is significantly lower than the 44 per cent of people that say social media advertising is irrelevant or the 86 per cent of consumers that find TV advertising not at all relevant.
Karen Pritchard, Product Director, Wilmington Millennium commented : "It is heartening to see that consumers are finding direct mail more applicable to them following the introduction of GDPR. The channel, has in the recent past, had something of a perception problem amongst consumers, many of whom term everything that comes through the letterbox from brands as junk. One of the key aims of GDPR was to give control back to customer over the marketing that they receive. A by-product of this has been increased relevance in what is being sent out. Whilst volumes might have declined, mail remains a legitimate part of the marketing mix, and as relevance continues to increase so will the positive perception of the medium by consumers, which can only be a good thing for the industry."
Source: Wilmington Millennium