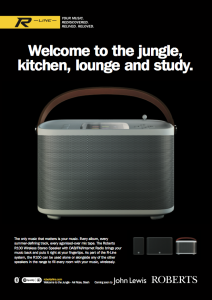 Roberts Radio, the UK's leading radio manufacturer, has appointed Five by Five to develop and execute an integrated launch campaign for the brand's new 'R-Line' range that rolls out across the UK in Spring next year. The R-Line marks Roberts Radio's first foray into the modular, streaming music category, targeting an affluent, music-loving audience that demands brilliant quality.
The agency will craft the range's overall identity, as well as producing print and online ads, brochures, POS collateral, videos and e-marketing materials to boost Roberts Radio's new bespoke line and increase on-shelf standout.
The campaign creative will be a blend of rich heritage and humour to capitalise on Roberts' British legacy, with print ads featuring tongue-in-cheek references to well-known chart classics such as 'welcome to the jungle, kitchen, lounge and study'.
Rachel Cowle, Head of PR and Marketing, at Roberts Radio, said: "With 80 years of design and radio manufacturing behind us and a rich British heritage, we're pleased to welcome Five by Five on board to continue to drive brand desire. The agency's wealth of launch experience within the consumer tech market will serve us well as we begin the next stage of our journey, entering into an exciting new category."
George Roberts, Client Director, at Five by Five, said: "More and more consumers are putting quality first and brands are having to work that much harder to deliver on those expectations. With Roberts Radio, you're not just getting the promise of uncompromising quality, but you're buying into a brand that is continuously looking for ways to improve the experience for its customers. We wanted to produce a campaign that delivered to all of this and that resonates with Roberts' core demographic of discerning music lovers. "
The range will initially launch with four products, the S1, S2, R1 and R100. The 'R-Line' will be on sale from Spring 2016.