At least 3,780 attacks were perpetrated against health personnel and infrastructure between 2016 and 2020, in an average of 33 countries seeing conflict or violence, according to data from the International Committee of the Red Cross. This alarming number underscores the importance of the ICRC's decision to join forces with Saatchi & Saatchi and Blaise Matuidi to develop an awareness campaign aimed at young people in Europe and Africa about attacks on health care personnel and services.
"Attacks on doctors, nurses and medical centres do not get nearly as much attention as they should. We hope this campaign will help generate as much support for protecting health workers as the world's best football players regularly receive from their fans," said Jennifer Hauseman, ICRC Director of Communications and Information Management. 
In addition to highlighting the exceptional work of war surgeons, the ICRC also wishes through this campaign to reaffirm its principles of neutrality and independence. The ICRC treats all victims, regardless of their side.
In a perfect world, war surgeons risking their lives to help victims should be as famous as footballers. This is why Saatchi & Saatchi has chosen to make a film in which fans from around the world cheer for a war surgeon with the same fervor they bring to football matches.
But as FIFA World Cup champion Blaise Matuidi tells us in the final scenes of the film, it's a basic truth that these surgeons will never be as recognized as football stars, even if they deserve it as much.
The "UNKNOWN HEROES" campaign takes us through a surgical operation as if we were watching a major football match. From the camps of South Sudan to Paris, Brazil, Barcelona, and the suburbs of Manchester, fans from around the world witness the war surgeon's accomplishments on the medical field and his inevitable rise to fame after achieving his feat. From interviews to front-page news, awards, hordes of journalists and video game avatars, our protagonist gets the same idol treatment as the planet's biggest football stars.
The film, directed by Stéphane Barbato, questions what the world values and is particularly relevant today as important health issues dominate global headlines.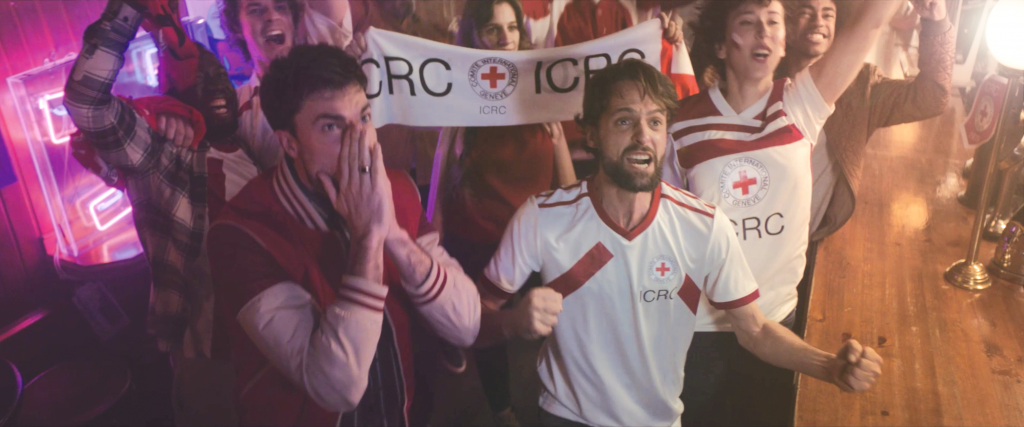 International Committee of the Red Cross
Siane MONREAL – Head of Community & Digital Engagement
Jesper ASTROM – Digital Tactics & Activation lead
Didier REVOL – Audiovisual producer
Nora LIVET – Global Social Media Manager
Florian SERIEX – Public Relations Officer
Chris HANGER – Public Relations Officer
Saatchi & Saatchi France
Olivier DESPRÉS – Managing Director
Pierre VIALLANEIX – Creative Director
Laëtitia CHRETIEN – Art Director
Jean-François LE MAREC – Copywriter
Yann CHERVET – Head of strategies
Vanessa LAUNAY – Group Account Director
Jonathan MIRA – Account Director
Jessica XAVIER-COCHELIN – Account Manager
Thierry DELESALLE – TV producer
Prodigious
Stephane BARBATO – Film director
Bastien BARBANEL – Producer
Frederic LUBIN – Production Director
Marie RAFFY – Chief Editor
Flore BERNOT, Cécilia NEYROUD, Catherine OGER – Business & Legal Affairs
Source: Saatchi & Saatchi