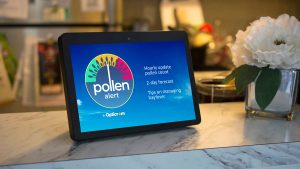 Mindshare, part of WPP, and Sanofi, the global healthcare leader, have launched the UK's first brand-led pollen alert on Amazon's Alexa platform. In addition to being market-leading within the consumer health space, it is also the first voice-activated skill to use hyper-local data to notify users about high pollen counts in their postcode. It is supported by Sanofi's hayfever brand, Opticrom Hayfever.
Opticrom's "Pollen Alert" is the first piece of work from Mindshare UK to be supported by its global voice and visual consultancy, announced in October 2018, and was developed in partnership with Voxly.
With Opticrom Hayfever's understanding of the consumer journey of a hayfever sufferer, Sanofi was able to identify the most relevant moment to engage and provide information on what their allergy day will look like.
This audience-first strategy and understanding of the consumer journey enabled the introduction of the voice-activated skill, supported by insights on voice search drawn from Mindshare Futures' latest Trends report, which surveyed 6,000 UK consumers, as well as its voice research project, Speak Easy.
The skill will also function within the Alexa ecosystem as a flash briefing, enabling users to engage with "Pollen Alert" in a way that best suits their needs and lifestyle. Sanofi and Mindshare developed the skill's voice map from end-to-end, before bringing it to life with a professional voice-over artist to further differentiate it from Alexa's identifiably artificial tone.
Mindshare was also briefed by Opticrom Hayfever to develop the visual identity of the "Pollen Alert" skill, enabling it to live seamlessly across screen-enabled Alexa Home devices and complement its sonic identity.
Sowmya Venkat, Allergy Senior Brand Manager in Consumer Healthcare at Sanofi, commented: "It's been exciting to work with the Mindshare team on this market-leading voice skill, which we believe will help alert thousands of hayfever sufferers across the UK to high pollen counts in their area. This will enable them to proactively manage their hayfever and allergy symptoms in a way which slots seamlessly into their daily routines. After reading the extensive research conducted by Mindshare Futures' for its Speak Easy report on voice, it was clear that this was a space in which we needed to meet our audience. Mindshare's newly launched voice and visual consultancy has been instrumental in helping us build an audio presence which adds value to the lives of our consumers."
Charlotte Ince, Mobile Strategy Director of Mindshare, said: "As consumer adoption of voice accelerates, it's becoming increasingly important for brands to have a strong audio presence. Our Trends research showed that 21% of the UK population now own a smart speaker (up from 13% last year), demonstrating that voice technology is no longer a novelty for the everyday consumer. We're confident that the easy usability and interoperability of the voice skill will add brand equity for Opticrom Hayfever from day one, whilst simultaneously easing a fundamental pain point for hayfever sufferers."
Opticrom Hayfever 2% w/v Eye Drops, solution. Contains sodium cromoglicate. Always read the label.
Source: Mindshare