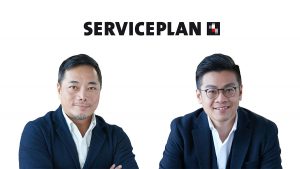 Fulfilling the mission of Serviceplan to focus on accelerated globalisation and increased emphasis on the importance of the Chinese market, are the new star players of Serviceplan Greater China – Marcus Ma and Chong Kin – who recently joined the agency, and are already expanding the client roster with some strong work including two World Cup campaigns.
Serviceplan Greater China is happy to announce the following new clients; ERDOS Men; Mengniu's Chunzhen Yogurt – World Cup Campaign; Tencent Sports – World Cup Campaign; Tencent NOW Live Broadcast.
Serviceplan Greater China CCO Chong Kin commented: "This is an excellent start. We truly appreciate the trust from ERDOS, and the win on Mengniu and Tencent through our creative, strategy, philosophy and passion from the team. These results prove good ideas and working with our heart is what clients with a vision have been looking for. Moreover, providing Creative Business Solutions to client is the duty and the original intention of every ad executive and creative. With more creative talents joining the agency, we are on a mission to create a new era for all our clients."
As well as winning four new clients, Serviceplan defended the HIPP account in Shanghai. Germany's market leader for Baby food will remain with Serviceplan and continue to trust in the philosophy of the agency group. Services provided are; AtL, BtL, POS activation and social media.
Serviceplan Beijing Managing Director Marcus Ma commented: "We are very honoured to further expand our cooperation with ERDOS, working together with the client in building a designated style for this China premium fashion brand. At the same time, we are very excited to expand Serviceplan's business into different categories: Amongst them FMCG and internet enterprise are the visions of our expansion in the China market. In addition, as the internet is one of the fastest growing businesses in China, and is also influencing the world, we hope to further develop with Tencent an even closer strategic alignment in the near future."
Serviceplan International Managing Director and Partner Markus Noder commented: "We are very happy about the new businesses we won recently which underlines that we have selected the right partners to grow our business in China!"
Source: Serviceplan