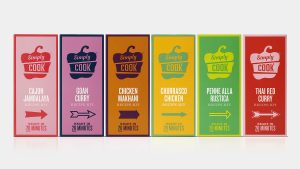 Subscription-based recipe kit service Simply Cook has unveiled a new range of in-store recipe kits with a unique design created in collaboration by B&B studio and Path.
Launching in Sainsbury's stores across the UK this month, the range of six kits delivers powerful flavours from around the world, with recipes including Goan Fish Curry and Penne Alla Rustica.
This move from eCommerce into retail follows the rise of recipe and meal subscription services, with easy-to-follow guides delivering delicious high-quality meals in only 20 minutes.Â
The Joy Of Cooking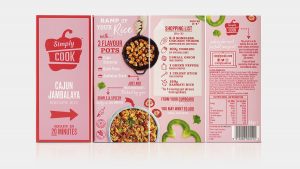 Positioned for people who enjoy the act of cooking but not the planning, the Simply Cook recipe kits offer a quick and easy solution to the everyday decision of what to have for dinner.
Vibrant designs catch consumers' attention as they enter the store. Each stage of the user experience has been considered in the design, from positioning the disruptive stands in the fresh food aisles to sit alongside key ingredients, through multi-layered packaging that unfolds like a recipe book, to a fun, functional and visionary design that enhances the cooking experience.
Each kit includes three flavour pots and a step-by-step recipe but no fresh ingredients, enabling the consumer to select their own produce as they make their way through the store, following the on-pack shopping list.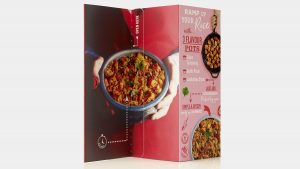 Flavourful Impact
Building on a previous relationship with Simply Cook, B&B studio evolved the brand's existing positioning and identity, moving away from an over-reliance on reassurance through messaging towards a more engaging experience that focuses on the joy of cooking.
The design challenge was to bring that experience to life through packaging. Path's structural solution stands upright and confident, delivering shelf impact and a post-purchase experience that takes consumers on a journey of discovery. The bespoke cardboard structure features a 5th panel, allowing Simply Cook to communicate all aspects of its unique offer.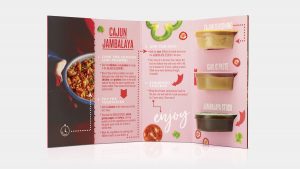 The pack is open on the top and bottom to remove any perception of over-packaging while also allowing consumers to see the flavour pots – an important consideration in introducing Simply Cook to a new retail audience.
B&B studio applied bright hues and simple graphics across the design to express the pleasure of cooking. A pared-back design with vivid photography takes users on a visual step-by-step journey from raw, scattered ingredients, through the cooking process, to a delicious completed meal. The front of pack is kept simple, focusing on the powerful flavours within.
Quick, Easy And Enjoyable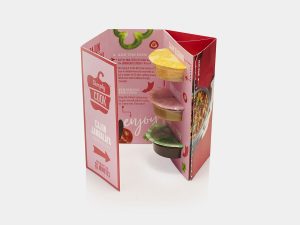 Shaun Bowen, Creative Partner at B&B studio, says: "Simply Cook's new retail offer is the helping hand that many people need to cook at home. After a long day at work or when they're tight on time, the decision of what to have for dinner can be an added stress that people just don't need. Our solution cuts out that stress, while reminding them of the joy and relaxation that the cooking process itself can bring."
Chris Forecast, Creative Director at Path, says: "Simply Cook brings delicious recipes from around the world into consumers' kitchens, making cooking exciting, enjoyable and, most notably, easy. In creating the structure, we wanted to reinforce these ideas at every point of interaction: from opening the first panel and seeing a mouth-watering photo, to tearing the box open and discovering the recipe, to being able to easily prop the recipe up when you start cooking."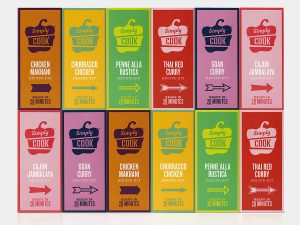 Oli Ashness, Simply Cook Founder, says: "Over the past few years our online subscription service has gone from strength to strength and the time had come for us to branch out into the retail environment. These powerful recipe kits pack a real punch, but in a crowded marketplace, we needed a strong visual identity to differentiate from the competition. B&B and Path have worked brilliantly together to deliver a unique proposition for our in-store recipe kits, with packs that engage our customers from the moment they set foot in the store till they're at home making quick and easy meals that are high quality and absolutely delicious."
B&B studio delivered the brand positioning, creative strategy, brand identity and packaging design for Simply Cook. While Path created physical strategy and design for both packaging and point of sale, and also ran manufacturing consultancy.
Source:Â B&B studioÂ