In Spain, nearly 30% of drivers have felt fear or anxiety while driving. For 7% of drivers, the fear is so intense that they are incapable of sitting behind the wheel. This uncontrollable fear is called amaxophobia.
Halloween has always been a moment to talk about fears. That's why ŠKODA chose this moment to raise awareness about the phobia that a lot of people suffer from – most of them in silence – but which is still unknown to the majority of society.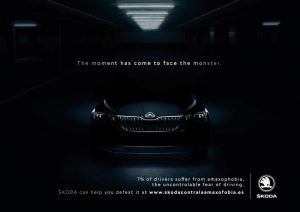 The automotive brand has defined its positioning around the idea that a car is a place to live good experiences, without worrying, all encompassed by the question 'What's the point of having a car?'.That's why they wanted to launch a project to raise awareness of the existence of amaxophobia, and help people who suffer from it, assuring they can start living good experiences in their cars.
Using the classic tropes of horror films, ŠKODA has launched a commercial that explains how some people with this phobia might feel about driving, presenting the car as a terrifying villain: a monster. The ad, which was devised by creative agency Proximity Barcelona, will be broadcast on TV, social media and cinema.
Additionally, through a dedicated website, ŠKODA will deliver information about the phobia, inviting people to join the conversation using the hashtag #VenceALaAmaxofobia (#DefeatAmaxophobia) and, in cooperation with the specialised organisation CEA Foundation, offer free courses addressed to people who suffer from this phobia. In these courses, one can learn, with the help of psychologists, how to face stressful situations while driving on a closed circuit.
Source: Proximity Barcelona