Communications agency Exposure
started today with an event to inspire fearlessness among its staff.
Hijacking the firm's weekly company meeting, Exposure's Brand Experience team set out their plans for the year in a fully produced experience, before inviting a number of 'professionally fearless' volunteers to enter a screened-off boardroom.
The five employees – Hannah Grant, Seema Parma, Jade Taylor, Paul Valentine and Sian Clayton – were faced with a ten-foot albino python to take out to the group, with their priceless reactions screened live to the audience.
Alison Berkani, Brand Experience Director, said: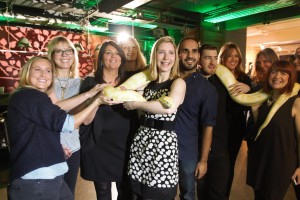 "Now more than ever, agency teams need to fight for great creative work. I have worked on some amazing experiences over my ten years at Exposure, and we want to build on the success of 2013 by working on projects and with clients that want to push boundaries and take a fearless approach to creating memorable events and content. Turning the Exposure reception into a brand experience really brought home to the company how even the most ordinary meetings can be subverted. We believe that the best way for people to understand what experiential events can deliver is to be a part of them!"
Seema Parma added, "I expected Powerpoint – what I got was a python.  It definitely feels there is a real attitude here to deliver bold, surprising work that makes a difference and this really reinforces that."