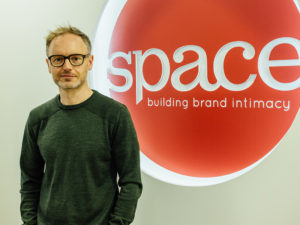 Space has strengthened its creative offering and senior team with the appointment of Greg McAlinden as Creative Director.
Greg is an award-winning Creative Director with over 15 years of integrated experience holding creative leadership positions at WPP agencies Ogilvy Action and Geometry Global and most recently at ODD.
A seasoned digital exponent, he has delivered creative solutions for global brands including Coca-Cola, HSBC, Vodafone, Dr. Martens and BP.
At Space, Greg will be responsible for leading Space's creative thinking, adding weight to its strategic offering and delivering the creative output across the breadth of its clients which include Arla Foods UK, Heineken UK, William Grant and Sons, UEFA, Wimbledon, Lufthansa and Coral.
Greg will report in to Space Managing Partners, David Atkinson and Jason Nicholas, and joins the Leadership Team to help drive the agency's growth.
Greg McAlinden comments: "Space is a creative agency with so much going for it. It works with great clients, has a hugely talented team and has an excellent creative track record which I am really looking forward to building upon. What impresses me about Space is its clear sense of purpose, to move people to choose its clients' brands, and its belief that creativity that moves seamlessly between people, places and spaces builds closer, more valued relationships for brands."
Jason Nicholas adds: "Greg's appointment marks a significant development for Space. We are being increasingly challenged by our clients to help them emotionally connect with their audiences anywhere that influences their choice of brand; on screens, in print, in-store, live or virtual. In Greg, we have found a proven creative leader who has the intelligence, creativity and drive to embrace these challenges and deliver compelling solutions for our clients."