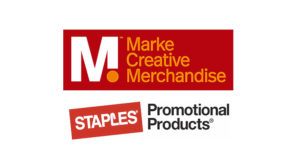 Multinational office supply retailer, Staples, is relaunching its creative merchandising arm of its corporation as Marke.
Marke is a now a creative services company in its own right, ready to assist brands and partners with branding and execution.
With the help of London based innovation consultancy, Fearlessly Frank, the new look and brand identity aims to position Marke as a one-stop-shop for creative brand merchandising solutions, as well as creative services and solutions.
Working closely with the marketing and sales team at Marke, Fearlessly Frank helped the business to understand, evaluate and communicate its unique business offering through a new brand name and identity. Fearlessly Frank were challenged to not only communicate Marke's basic delivery, branded merchandise, but also its additional benefits and creative and innovative approach to delivering these solutions.
In a world that's overflowing with so much choice, Marke aims to make merchandising simple for businesses to make bold, creative statements that their customers will remember. The helpful team at Marke make recommendations for companies based on their inherent understanding of the partner through their curation and account management process called Brand Immersion.
Through Brand Immersion, Marke grows by training associates, aligning operations and designing programme structures to help clients improve businesses, marketing and communication outcomes. This enables Marke employees to support, protect and enhance the brands they work with –  separating them from anyone else in the market.
Ben Little, co-founder of Fearlessly Frank said, "We have thoroughly enjoyed working with Marke and to be there throughout the journey of relaunching from a trusted brand into something that is unrecognisable, but familiar. We worked with Staples Promotional Products to bring that creativity and offering to the forefront of their business, making it present through their identity, behaviour and even name."
Lisa Munro, managing director at Marke Creative Merchandise said: "Fearlessly Frank has given us the chance step out of the ordinary and prove to customers that the work we do is with purpose, originality and care. The business remains a global operator and continues to have extensive levels of expertise within the market. This re-brand is just the beginning of an exciting new time in the life of the Marke business."
Marke is the brand merchandiser for 200 Fortune 1000 clients. 45 of these clients are "Top 100 Most Valuable Brands" as ranked by Interbrand and Business Week.
Source: Fearlessly Frank