A new brand strategy, hi-vis palette and striking, versatile mark signal Bullitt's bold move to democratise two-way satellite communication.
With over a decade of 'tough tech' experience, Bullitt is the world's leading manufacturer of ultra-rugged phones. But this innovation happened behind closed doors; its white-label relationship with licensees CAT and Motorola meant very little brand recognition of its own.
Now, Bullitt has taken the bold move to launch an innovative new service, built on proprietary technology that enables two-way satellite messaging from a smartphone. By comparison, the iPhone 14's satellite functionality only helps in an emergency: Bullitt is the first to unlock a new world of always-on connectivity for everyday use.
"We've all lost signal before; at best, it's irritating and inconvenient. At worst, it's life or death. With Bullitt-empowered connectivity, you have a global network of GEO satellites backing you up wherever you go, alleviating smartphone users 'no-network coverage' anxiety and frustration. There's no more signal blackspots, even in the middle of nowhere." Phil Wicks. Head of Satellite Marketing. Bullitt Group.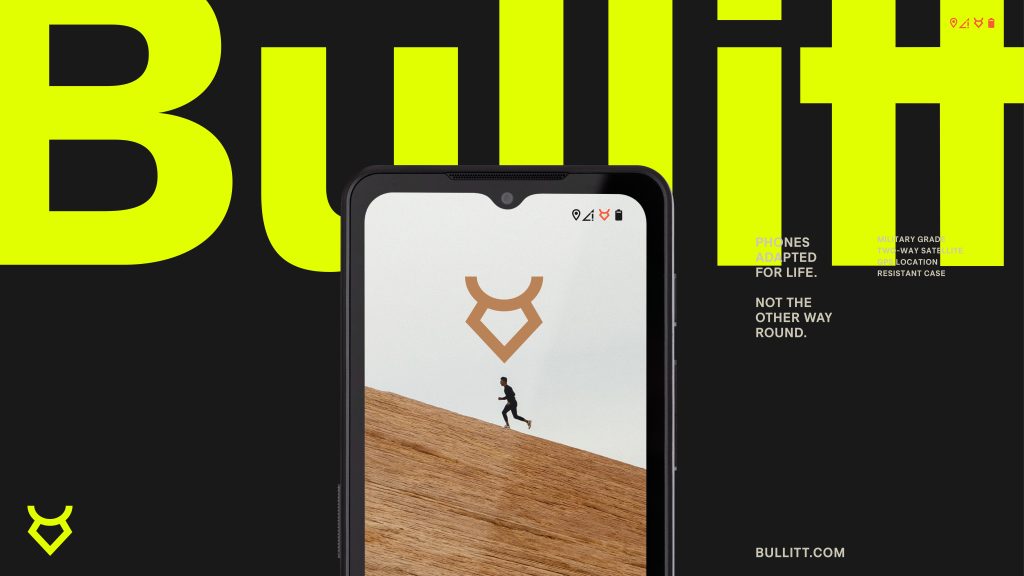 Bullitt Satellite Connect technology comes baked into two new Bullitt-made rugged smartphones – the Motorola Defy 2, and the CAT S75. But the real game-changer is the Motorola defy satellite link dongle, which gives any smartphone the same power.
Bullitt needed a strong, confident platform to introduce these game-changing innovations to the world. Part of Taxistudio's brief was to shift Bullitt's position from white-label B2B to a desirable lifestyle brand, preparing it for B2C market expansion to sit shoulder to shoulder with the likes of Apple, Samsung, and Google.
Bullitt-made phones had traditionally been sold on ruggedness alone to appeal to customers in extreme, mission and business critical environments; for example, first responders who value their drop-proof, waterproof, dust-proof handsets in the field.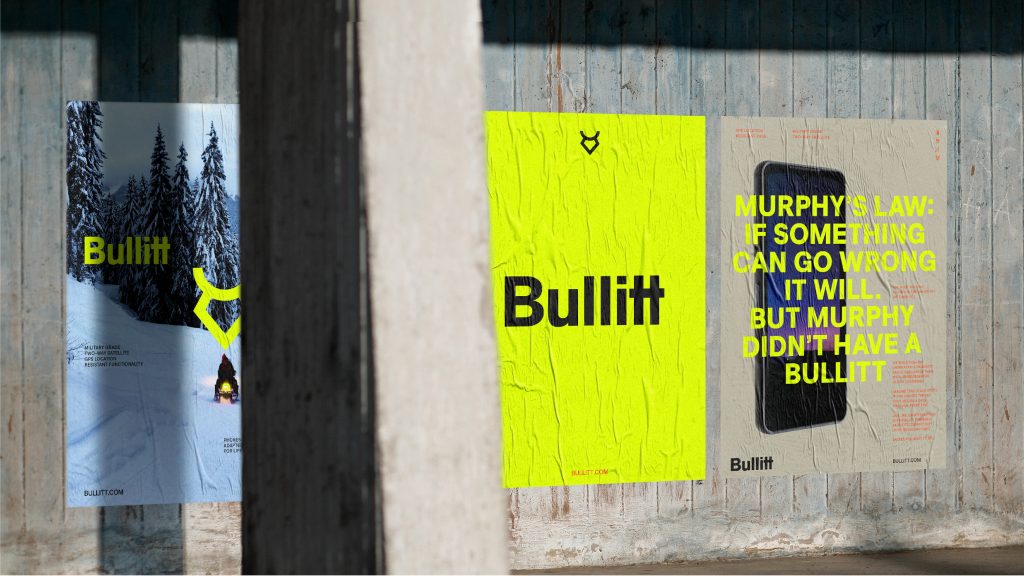 Taxistudio repositioned the brand to present reliability, desirability and robustness, underpinned by an ingredient branding strategy – launching with the strapline: Bullitt Empowered.  Long-term Taxistudio writing partner, Nick Carson, penned a new tone of voice for the brand that places the customer at the heart of the communications, and another long-term Taxistudio collaborator, James Hilton (Founder of AKQA & Death Machines of London), worked alongside Taxi's CD, Stu Tallis.
"Bullitt's new brand identity broadens their appeal to anyone suffering from 'signal anxiety' – from hikers, skiers and mountain bikers to anyone who lives, works, and roams off-grid. Their new identity system was influenced by the world of hi-vis, and accident and emergency operators – starting with a new vibrant palette inspired by neon signal flares, to hint at the value of the service in moments of need in an impactful way." Stu Tallis. Creative Director. Taxistudio.
The simple, striking brand icon (named Frank) fuses the powerful horns of a bull – inspired by Taurus, the first observed constellations of the Mesopotamians (who used the stars to navigate the world) – with the shape of a diamond, Earth's strongest material.
Across Bullitt's brand communications, 'Frank' functions as a locator to pinpoint a person's location in even the most far-flung, remote places – symbolising how Bullitt empowers and protects people via always-on satellite connectivity.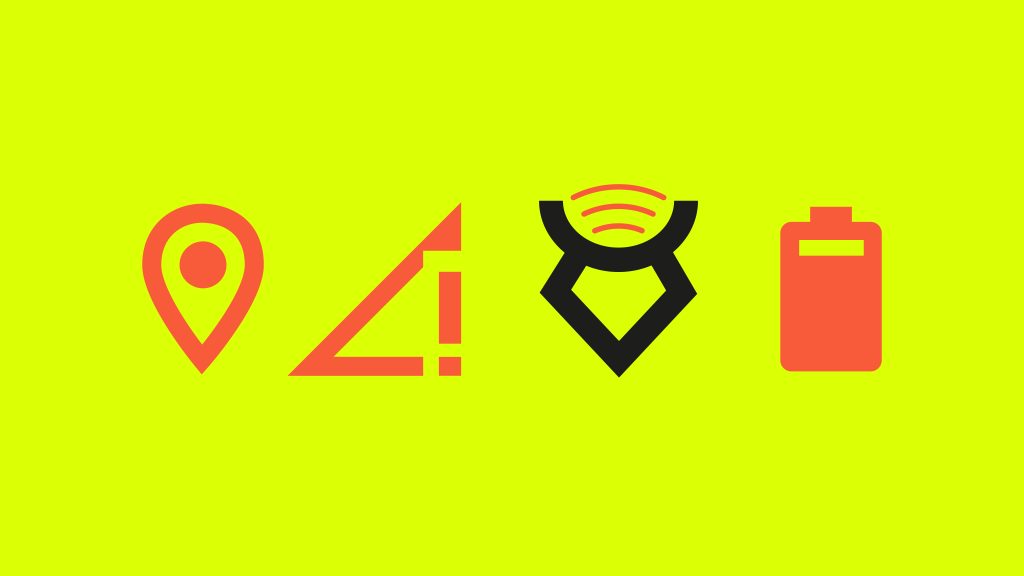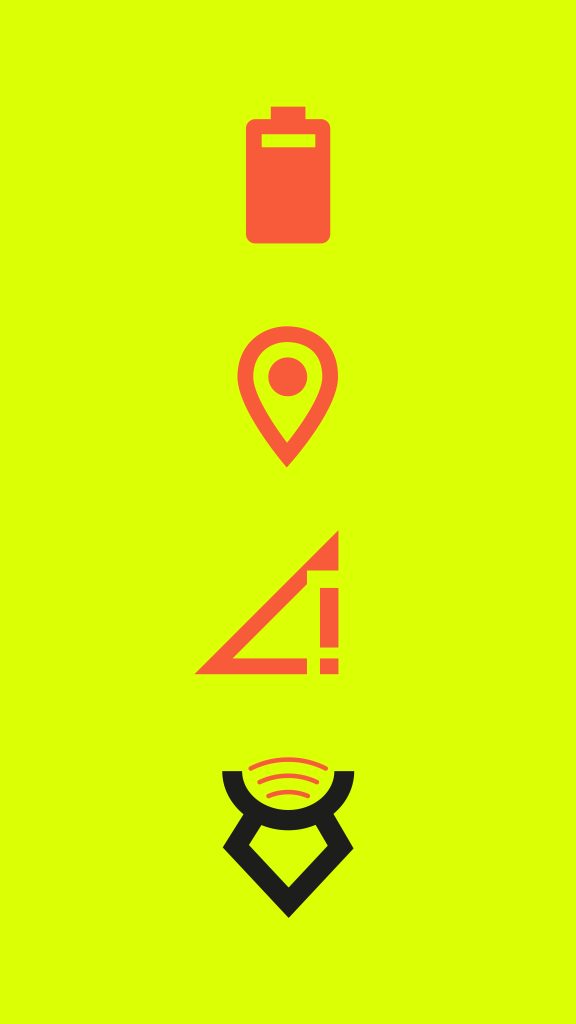 Bullitt unveiled its latest innovations at MWC 2023 this week. Scooping up the coveted Best in Show award.
"Through our service and innovative hardware, Bullitt are democratising satellite connectivity. The new brand work from the incredibly talented team at Taxistudio has given Bullitt a framework to bring our innovative satellite service to a broader market. With Frank taking a lead role across all our comms." Phil Wicks. Head of Satellite Marketing. Bullitt Group.
Source: Taxi Studio