Over two thirds of the UK population (65%) say they'd try/buy a new product if it's been recommended by a friend or family member, according to new research conducted by Product of the Year, the UK's biggest survey of product innovation.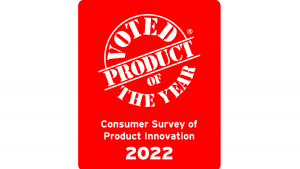 Conducted online in July 2021, UK consumers were asked to identify factors that would influence them to try or buy a new product with 'award-winning' products coming into second position with 23% of the votes and appearing in the press/adverts polling in third with 8%.
Taking into account the last 18 months, more than ever consumers have turned to the safety of products they know and use. Today, brands have their work cut out with new product launches, faced with more competition than ever and ever-changing consumer requirements. 'Trust' and 'reliability' are front of mind for consumers according to research carried out by Avionos and when trying a new product they need that validation via alternative means, whether that's an award win or simply a recommendation from someone close to them.
"Consumer confidence is on the return but when it comes to trying new products, consumers rightly want to know it's been vetted by other people first." says Helga Slater, MD, Product of the Year. "Awards like Product of the Year – where products are voted in by over 10,000 consumers just like them – are a key way to instil consumer confidence and remind shoppers that people have tried and tested the very same product they're about to buy. It's a seal of approval in a crowded market."  
Product of the Year plays directly into product sales. Each year, the winners earn the right to carry the iconic Product of the Year logo, which on average, has been proven to drive sales by 10-15% – with some uplifts as high as 135%.
The deadline for Product of the Year is on 31st July.   
Source: Product Of The Year