Independent, creative and strategy agency The Distillery Project (TDP) has launched a creative campaign to support Good Crunch™, Dole Packaged Foods' new purpose-led brand of nutritious, sustainably made dried fruit snacks.
The product is available in three options—Pineapple Bites Original, Pineapple Bites with Chili, and Banana Bites Original—and delivers on what the name suggests: It's a satisfying snack with an ultra-craveable crunch that is also "good" (read: a healthy choice). The goal is to retrain how consumers think about snacking, spark trial and raise awareness.
"We tend to think of snacking in a binary way—if a snack is healthy, it's probably not tasty; if it's crunchy, it's probably unhealthy," said Melissa Astete, senior brand manager, Snacking Innovation. "The 'Retrain Your Brain' campaign is a fun call to action to show that a really good snack can challenge your preconceived notions—and that snack is called Good Crunch."
TDP shot two 15-second spots and a whittled-down six-second version of each. The work is running nationally on digital and social platforms, such as YouTube and Instagram. In one spot, a test subject is seated at a table containing two generic-looking bins. One is marked "A Delicious Snack" and the other "A Healthy Snack." She is instructed to pick the snack she wants most, and not surprisingly, she chooses taste over nutrition. But when the labels are lifted, it turns out that the two snacks are both Good Crunch. The point is that there's no reason why a product needs to be one thing or the other. In the other spot, a man who you might think is eating a crunchy potato chip is actually sampling a crunchy, healthier option, Good Crunch.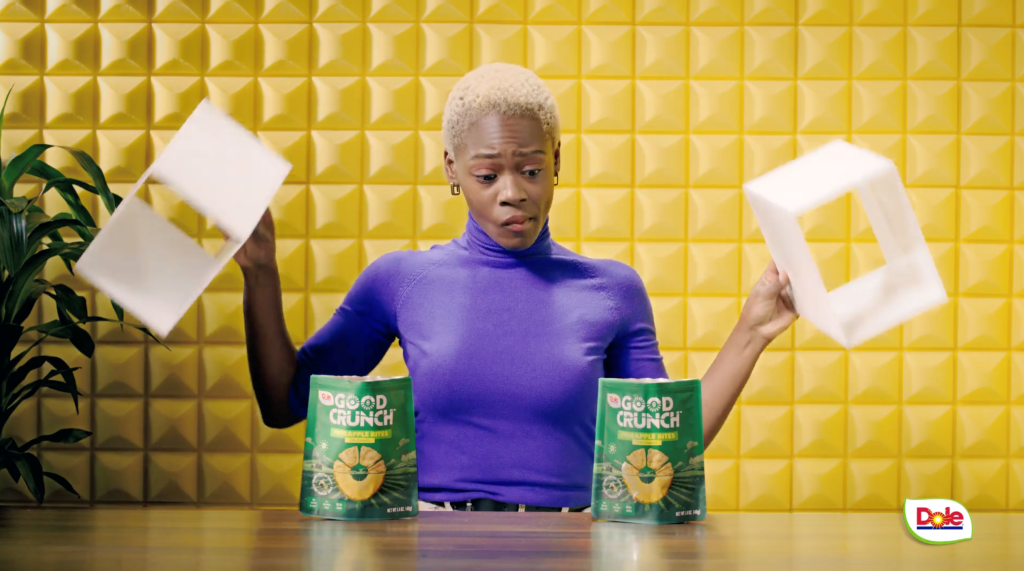 "With our two introductory executions, we played into this world of trial and sensorial experience. From the expressiveness of our talent, the eye-catching set and ASMR-style audio, we wanted people to acknowledge the preconceived notions they have about snacking and hopefully change some minds," says Phil Jungmann, creative director at TDP.
The idea of retraining one's brain is one that's often discussed in neuroscience today. Neural plasticity suggests that the brain is pliant, and that people can rewire it to overcome negative thoughts and habits. It's much easier to do with a new brand than one that has been saddled by preconceived notions.
Subsequent ad efforts will dive deeper into Dole's sustainability story by spotlighting its efforts to create a snack that is not only good for health but also the planet, as well. Good Crunch is made using solar energy to lower CO2 contribution to the air and unused pieces of fruit are upcycled to reduce food waste.
For more information and distribution updates, visit dolesunshine.com.
Source: The Distillery Project