Manchester-based film and creative content company, The Gate, was hired by creative agency, Brandon, to help reveal a new look for the UK's number one Italian cooking brand, Napolina (www.napolina.co.uk).
Brandon was tasked with bringing Napolina's brand messaging "For the love of Italian food" to life through a 30 second TV commercial.
The Gate produced Brandon's script – a creative called Ti Amo (I Love you), which tells the story of food being "created with love".
Visuals showcase the story of two people in the kitchen, enjoying the experience of cooking and eating Italian food together, which is supported by an original love song.
The Gate worked with award-winning composer, Alex Wells, who has written pieces for Jaguar and Nespresso amongst others, to create the soundtrack. With the voices of Avenue Q lead singers, Lawrence Smith and2017 Spotlight Prize winner, Cecily Redman, the advert creates a relatable and emotive connection to the brand amongst viewers.
The Gate delivered a 20 and 30 second TV commercial which is currently running across national TV, and a visual social media campaign, which featured behind the scenes content to tease the brand's new look, prior to launch, as well as bespoke cutdowns of the main TVCs.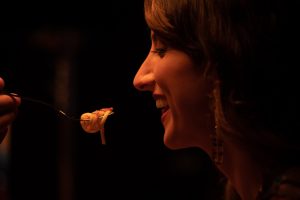 Multi-award-winning director Michael J Ferns guided the creative from The Gate. 
Producer at The Gate, Rhiannon Lewis who led the project, said: "It was key for us to create a heartfelt soundtrack, which would perfectly compliment the creative brief of "I Love You." By nature, Italian opera singing is emotive, so Michael and The Gate production team chose to work with two of the UK's leading theatre singers, to create the perfect love story."
Simon Ellis, Client Services Director at Brandon said "We really enjoyed working with the team at The Gate. They had a real passion for delivering the best creative possible. Michael's attention to detail and glossy style really paired well with our re-branding of Napolina. The client is delighted."
Project Director Michael Ferns said: "I really do relish the opportunity to craft such rich and sumptuous visuals. Combining that with understated performances and a lush operatic score made this project a rare filmmaking pleasure."
Source: The Gate