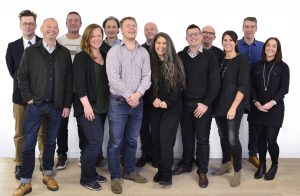 the mission, the publicly listed marketing services group, has acquired independent agency krow communications.
In a deal that values krow at up to £14.5 million over three years, based on performance, the mission will align krow with bigdog, its award-winning integrated agency, to create a strong presence in one London location.
krow, which launched in September 2005, is listed in Campaign as the UK's 17th largest agency and has clients including DFS, Ferrero, Sky Vegas and Fiat, income of £8 million, and a team of 65 people.
Founders Barry Cook, Nick Hastings, John Quarrey, and Malcolm White, will continue to manage krow, reporting to the board of the mission.
The 130 strong bigdog will retain its separate brand and management team led by James Clifton. Bigdog's London team will move into the krow building to maximise shared opportunities.
The owner of 15 agencies across the UK, including Bray Leino, Chapter and Story, the mission has moved for krow to bolster its well-established marketing services experience with krow's excellence in advertising creative. The deal provides krow with access to a broader offering that includes shopper, digital and data expertise.
David Morgan, Executive Chairman of the mission, commented: "We have admired krow and its approach for quite some time and we are really looking forward to working with the team as part of the mission.  krow's team members share our values and their position in the market, strategic expertise, creativity and strong senior team will complement our portfolio of Agencies and increase our important foothold in London."
Barry Cook at krow said: "The acquisition by the mission is all about building our capabilities and those of the group to meet future client demand. This is a rare and valuable opportunity to become part of a group that has such complementary people and services to those at krow."
SI Partners, global M&A advisor and consultancy, advised the krow shareholders on the deal.
Tristan Rice, Partner at SI Partners who led the deal negotiations, comments: "krow is one of the largest and longest standing creative independents in the UK and gives the missiontm a fantastic foothold in London as well as access to a raft of top flight creative talent. Agencies in the missiontm Group such as Big Dog will give krow access to a broad range of integrated capabilities, enabling them to service a broadening client need and creating a great platform for sustained future growth."
Source: krow communications