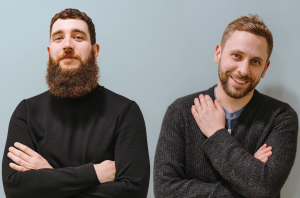 McCann London has hired top creative team Christopher McKee and Richard Morgan to further establish the agency's position as one of the most-creatively awarded in the UK. They join McCann's London shop from Wunderman Thompson where they've led the creative charge on BT and BT Sport since 2018.
The pair will work alongside the creative duos, Ray Shaughnessy & Dan Norris, ECDs at McCann London who joined the business in February 2020, and UK CCOs and London Co-Presidents, Rob Doubal & Lolly Thomson.
Christopher and Richard are two Brummies, on a mission to bring a smattering of Midlands mentality to the artful world of advertising.
Since meeting in Shoreditch more than a decade ago (pre-Gucci), they've continued to veer as far from 'the line' as possible. Creating unexpected excellence at agencies including their latest appointment at Wunderman Thompson, as well as Spark44, Lost Boys and Digitas.
They built the world's first Michelin-starred drive-thru, opened a pub to fight for football fan equality and used AI to script an entire Premier League season. The pair have won over 100 accolades, with wins at all major award shows and every agency they've plied their trade, including Gold at Cannes and a D&AD Yellow Pencil.
Like McCann London, they're driven by ideas that go beyond the brief to genuinely impact culture and conversation. It's a match made in East London. Back where it all started.
Commenting on the appointment, Shaughnessy said:
"We couldn't be more delighted to have Chris and Rich join us, because – just look at their work, it's good to hire people you're professionally jealous of. They bring real creative energy with zero douchebag vibes which for us, can only be a winning formula"
Morgan on joining McCann London
'We've coveted McCann London's work from afar, their ability to create culture bending campaigns has always resonated with us. So, as soon as the opportunity arose to work with the very same insanely talented bunch, we leapt at the chance.If cosmic career alignment is a thing, then this is probably it.'
McKee on joining McCann London
'From the moment we first sat down for a virtual cup of tea with Ray & Dan, we knew this was the move we wanted to make in real life. We wanted to surround ourselves with the best talent in the business and it was clear McCann London was the place to do it. We're immensely proud to call McCann London our new home and be part of its latest – and hopefully greatest – chapter.'
Source: McCann London