2018 marks the 30th anniversary of the iconic Volkswagen California campervan. To commemorate this incredible milestone, Tribal Worldwide London and Volkswagen Commercial Vehicles UK has teamed up with artist Hixxy and Global Street Art (GSA), to create a mural in central London that celebrates the California's rich heritage and spirit.
Through Volkswagen's Commercial Vehicles social channels, Tribal called on fans to share their favourite adventure and camping locations from across the UK. The best and most inspiring among these were used as inspiration to create a mural that celebrates the Volkswagen California's rich heritage and spirit. To do this, Tribal partnered with an East London based street artist, Hixxy, and with GSA, an organisation which helps create legal street art.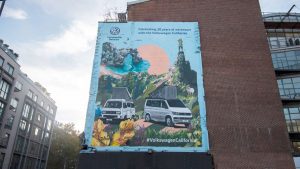 The mural features both the original and today's special 30 year edition version of the Volkswagen California, and celebrates the vans adventurous spirit with visuals that hint at the hidden stories each California has to tell. Under Tribal's creative direction and oversight, Hixxy used her unique blend of 50's print design and archive illustration to bring the campaign to life, whilst GSA — always at the vanguard of the growing interest in street art — lent their knowledge on how best to take the mural into the commercial world.
Located in Clerkenwell, Central London, the mural has been visible since the 10th November and will be featured for up to 12 months.
Jon Cleave, Creative Director at Tribal Worldwide London says: "We wanted to celebrate the California camper van by bringing '30 years of adventure' to life. Drawing upon our audiences' favourite British adventures, stories and hot spots across England, Scotland and Wales, and together with Hixxy, we created a collage to inspire locals and new California owners alike to hop in, buckle up and take their own adventures across the UK."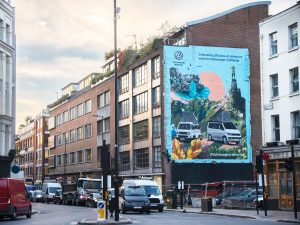 Sarah Cox, head of marketing at Volkswagen Commercial Vehicles, said: "The Volkswagen California is one of the most iconic models on the road and has been the campervan of choice for so many families holidaying in the UK over the past 30 years. As well as our limited edition model, we're marking the anniversary with our unique travel guide so owners can get the most out of their holidays and explore some of the nation's hidden gems. The mural is an outstanding piece of artwork which really encapsulates everything the Volkswagen California is about and is the ideal way to mark a very special birthday."
Hixxy, Artist says: "It's been a great experience to work with such an iconic brand, bringing wild and rural imagery into such an urban environment is something I strive for in my work."
Lee Bofkin, Co-Founder of Global Street Art says: "It has been a pleasure to work with Volkswagen Commercial Vehicles UK – we've enjoyed the challenge of taking Hixxy's design and working with her to translate it to a huge wall!"
Source: Tribal Worldwide London