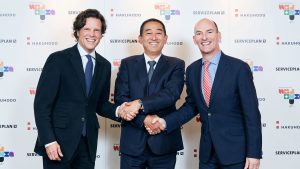 The Unlimited Group (UK), Serviceplan Group (Germany), and Hakuhodo Group (Japan) have combined forces to create a global offering rooted in local insight. The three independent agency groups have signed a strategic alliance to provide clients and prospects with a genuine global offering based on locally rooted insight.
Together, the UK, German and Japanese agencies are building joint teams to provide data driven, customer-centric, integrated solutions that will transform clients' business around the world, with a presence in all major markets.
The alliance will enable the three to serve existing clients and pitch for global business as a single unit, with a flexible approach to working together. Unlimited, Serviceplan and Hakuhodo have already teamed up for a pan European pitch due to take place in the first quarter of 2019.
UK-based Unlimited, and Europe's biggest independent network Serviceplan – which has more than 4,000 employees in offices across Europe as well as in New York, Dubai Seoul, Beijing, Shanghai and Hong Kong – have both worked on BMW for a number of years.
Like Unlimited Group, Serviceplan, through its "House of Communications," houses a number of specialist agencies across CRM, digital, research, PR and advertising. Hakuhodo has offices in 20 countries and regions across Asia, employing 10,000 people.
Unlimited already has a number of international clients, including Sony, Canon and Danone, and with the help of the new alliance will now be able to offer them improved insights and data in every market.
Tim Bonnet, President of the Unlimited Group, commented: "We have had a relationship with Hakuhodo and partnership agreement with Serviceplan for a number of years and as this grew in success, we are delighted to formalise this into a global alliance. We are really excited about the expanded offering and capabilities this will bring to our existing clients as well as the agile, innovative and data lead offering we can offer new clients on a global scale."
Masayuki Mizushima  Hakuhodo President and CEO, said: "In a time where our clients are faced with change as never anticipated before with the dramatic evolution of technology and acceleration of globalization, this strategic alliance with our longtime friends, the Unlimited Group and Serviceplan, is based on a firm belief and respect for the "sei-katsu-sha,"or living consumer — always taking on a central role where human emotions, thoughts and dreams reside. This belief leads us to an alliance that is built beyond the data driven approach and elevated to  reflect our "sei-katsu-sha" Consumer Driven – Data Proven positioning."
Florian Haller CEO Serviceplan, added: "This Global Alliance is the next step to offer a true "glocal" offer to our clients and prospects. Hakuhodo is a great multi-country agency group in Asia with a strong footprint in their home market Japan (No.2 Agency Group in Japan) and we already have a number of years track record of Unlimited as a successful partner to us."
The alliance will be lead by Unlimited Group's Bonnet, Serviceplan's Managing Partner International, Markus Noder, and Hakuhodo International's SVP Director of Branding, Ayami Nakao Peleta. No equity or cash has been exchanged between the three partners at this stage. 
Source: Serviceplan Group