To celebrate the perks and quirks of home life, and champion moments that matter, Very.co.uk is bringing the nation together for a giant singalong to 'Our House', the timeless 80s hit by Madness.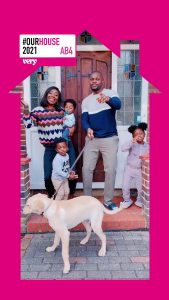 Households all over the country will join in to celebrate the ways in which their relationship with their
home has been irreversibly transformed by lockdowns in so many wonderful (and sometimes
challenging) ways.
The campaign, which will reach millions of homes across the UK, sees Very partner with Heart and
TikTok to recruit singers for the '#OurHouse2021' challenge.
Heart presenters Kelly Brook, Pandora Christie and Dev Griffin will join Suggs, the singer from
Madness, and Sophie-Ellis Bextor from their homes to encourage the nation to share their
interpretations of the 80s classic song.
Carly O'Brien, Chief Marketing Officer at The Very Group, which operates Very, comments: "Over the
past 12 months, there has been a fundamental shift in the way we view our homes. These familiar
four walls have become so much more than a place to eat and sleep – kitchens have become discos,
gardens have become festivals and living rooms have become fairy castles.
"As a multi-category retailer – we can play a huge part in helping the nation adapt their homes, as our
home lives continue to evolve in the future. Nothing could be a truer customer insight right now than
'Our house is our world this very moment' and so it was perfectly natural that the famous track 'Our
House' by Madness feature front and centre in this campaign.
"We've had plenty of fun creating the campaign and are proud to have teamed up with some famous
and familiar faces to reimagine the iconic Madness track 'Our House', giving it a 21st-century twist to
signify the change in the role of the home in 2021."
During the recruitment phase, TikTok's community will be invited to submit their own videos set to
sections of the Madness track; and Heart listeners to submit videos of themselves performing the
song. The best creations will be selected to appear in a roadblock screening of "Very presents 'Our
House'" on Saturday 27 th March during ITV's Ant & Dec's Saturday Night Takeaway.
Pop sensation Sophie Ellis-Bextor, who has hosted a series of fun kitchen discos live throughout
lockdown, will feature in the new music video, alongside hosting an exclusive TikTok LIVE House Party
DJ set with her husband Richard Jones, to be broadcast live on her own and Very's TikTok channels
immediately after the music video airs.
Madness singer Suggs says: "Spending a lot of time at home over the past year has meant we've all
had to adjust to life at home and how to keep busy. I'm really looking forward to seeing how the
nation will bring 'Our House' to life as we remember the year we've all been through. Of course, I
couldn't resist being in the ad too!"
Very will boost awareness of the challenge and encourage TikTokers to participate with a series of
TopView – the first video every person that opens the app sees – and In Feed ads through the course
of the campaign. Very will also run an extensive Outdoor advertising campaign on Global's estate to
drive engagement and encourage people to tune in to ITV to see the winning performances.
Laura Jordan Bambach, President & CCO UK at Grey says: "As a brand in sync with the nation and the
now, this campaign speaks to a moment in time that could only be March 2021. 'Our house is our
world this very moment' is aimed at supercharging home life across the nation and bringing the
country together for a giant singalong."
Very launched the new brand platform, 'Life is this Very moment', in October last year. It urges UK
families to champion the now, encouraging people to embrace the moment with levity and
enthusiasm, helping people to say yes to the brands they love and need through flexible ways to pay.

Credits
Client The Very Group
CMO Carly O'Brien
Brand Consultant James Rawlinson
Creative Agency Grey
CCO & President Laura Jordan Bambach
Creative Chairman Javier Campopiano
Creative Directors Matt Moreland & Chris Clarke
Chief Strategy Officer Raquel Chicourel
Strategy Director Jessica Smith
Group Business Director Kate Ilott
Business Director Simon Alexander
Account Director Charlie Pullan
Account Manager Emilie Jenner
Account Executive Megan Johns
Agency Senior Producer Maxine Hose
Agency Assistant Producer Kate Reynolds

TikTok Holly Harrison
Global Holly Bruce
Source: Grey London