On 1 August, Vodafone New Zealand announced it would be switching on its 5G network in December. To mark the occasion, they teamed up with DDB New Zealand to create Huxley, a powerful film demonstrating the incredible everyday possibilities this transformative technology will help New Zealanders to realise.
The debut film features two minutes of emotive storytelling, giving the audience a glimpse into two very different worlds. It tells the tale of a bereaved widower and the love for his dog Huxley, juxtaposed against the life of a Japanese vetenary surgeon in Toyko. The two lives play out in parallel on opposite sides of the world, eventually coming together through remote surgery – enabled by the power of 5G.
In launching 5G, the challenge Vodafone New Zealand and DDB New Zealand faced is that many people don't fully understand what 5G is, let alone what it will enable. The Huxley campaign is designed to show Kiwis how this leap in network technology will change the world as we know it. With infinite new opportunities due to higher speeds and lower latency, Huxley grounds the multitude of possibilities presented by this new tool in a simple emotive story and makes it relatable to Kiwis.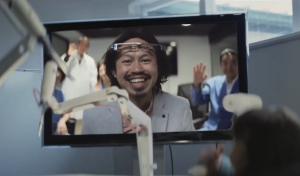 Damon Stapleton, DDB Regional Chief Creative Officer Australia & New Zealand, says the interesting thing about this campaign was the task of getting people emotionally invested in what could be seen as just a technological upgrade.
"This was a big task. We had to make people feel something for an intangible gift. We consciously decided not too go to crazy futuristic – we wanted this grounded in a human truth," says Damon. "That's part of the reason for the 120' spot. We needed to spend the time to connect the dots between 5G and a better life."
Nileema Allerston, Vodafone New Zealand's Masterbrand Manager, says Vodafone is excited to see how New Zealand thrives with the 5G network up and running
"We are beyond excited to bring a world-class 5G network to New Zealanders. We've been so inspired by the 5G transformations in our other markets  – including the first remote surgeries. After seeing this first release of the Huxley campaign, I think people will begin to realise how 5G can genuinely change how we connect."
The debut Huxley TVC will roll out in 120", 60", 30" and 15" formats.
Source: DDB New Zealand