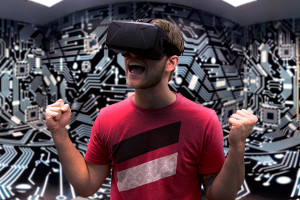 Virtual Reality has been a hot topic recently, especially at South by Southwest. Why is it especially important now? It is starting to be available to the average person and this has the potential to change the world of marketing.
VR dominated the recently concluded SxSW, as a top topic of discussion, an award winning feature, and a rising marketing tool.
The Accelerator Awards honour the startups that made it through SxSW, and within these awards there is a category for VR, which was won by Splash from Berlin. This startup captures 360 degree videos and quickly enables them to be shared on mobile and through social media. This innovation highlights how the trend of 360 degree videos with tools like GoPro is connected to VR, making the technology a little less out-there and more likely to be implemented in people's lives very soon.
In anticipation of VR being completely normalised for the common masses, it is being used as an exciting way for brands to take customers into other places or to perceived worlds. SxSW was flooded with corporations that are presenting their on virtual reality experiences.
One popular VR highlight was from McDonald's cooperating with HTC and the VR studio Groove Jones. The McDonald's Loft got a lot of buzz for its' Virtual Reality experience that let customers' custom design a "McDonald's Happy Meal Box", from the inside. A five-minute VR experience in 3D took users inside the box. There they had the choice between painting the inside of the box with a paintbrush or using a paintball gun or laser paint ray to blast colour all over the virtual walls. After the experience patrons were sent a GIF of them in the experience.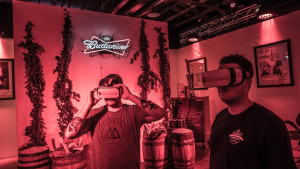 Another exciting feature came from Anheuser-Busch. They tried to do the impossible: create a virtual beer. The experimental campaign took place in the Budweiser Beer Garage at SxSW used VR to immerse visitors in their product. The garage consisted of a 4-D Immersive Reality Budweiser Brewery Tour which took visitors to A-B's St. Louis facility. Multisensory factors such as smell, touch, and temperature were used along with the VR to create a full experience. Naturally they were able to sample the beer at the end.
Samsung's Gear VR Lounge was one of the most popular exhibits that event-goers queued for more than an hour for. The lounge consisted of a 4D studio with motion simulated chairs. Viewers strapped on the Gar VR headsets, sat in the chairs and got ready for a ride on either Twister Colossus or Tatus, the two Six Flags roller coasters featured. They also launched the #VRonDemand campaign to make VR a portable experience that is more accessible. Tweeting with this hashtag and sending them your location got them to bring you your own Samsung Gear VR experience.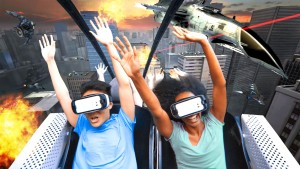 These features from the festival all demonstrate the rising normalcy of VR. Google's VR headset, Cardboard, was showed off at a SxSW party with their Tilt Brush 3D VR painting app. There was a 360-degree photo booth for patrons to use, that enabled the photos to be viewed through the headset. Facebook's Oculus Rift, and HTC's Vive, are soon-to-be released. Sony announced its PlayStation VR will be released to market in October, priced at $499. Deloitte Global predicts VR will reach a billion dollars in profits in 2016. By 2020 the VR industry is expected to have shipped 30 million headsets globally. "Part of what's so exciting about it is that there are no rules and no best practices, it's still really unclear what this is for and how best to use it," said New York Times editor Sam Dolnick.
VR seems like an amazing opportunity and is, but there are still potentially problematic issues with it. Motion sickness is a problem VR manufacturers are trying to prevent; VR is so encompassing a bad experience can create a highly negative impact and brand association. VR also requires a long post-production process because of the amount of complexities. This means they cannot be churned out like other advertising formats. Marketers need to be sure it is the best way to market before wasting resources into it.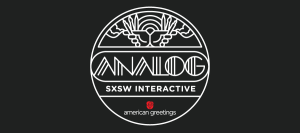 VR also may be potentially alienating as something that tries so hard to seem real that it can come off as in-genuine. It also can be seen as too much effort and could loose sales over that, such as 3D TV did. Though advanced tech is exciting, in everyday life authenticity in marketing is still highly valued. Customers want to relate with the brand.
This can be shown in the success of American Greetings at SxSW. Surrounded by the digital artificiality of VR, Robotics, and more, they decided to go back to reality. Copyrighters from the company created custom greeting cards for visitors and turned digital photos into printed polaroid's to go with the card. There was a station for creating physical flip books and an artist at their "stichie" station sewed thread portraits of visitors. Virtual reality may be the future but there is something about realness that isn't being forgotten any time soon.
Article By Page Ellerson, MarComm News