Effort includes positioning, naming, website, brand identity, and environments
as global company positions itself for the future.
VSA Partners, the hybrid brand strategy and design agency, has led the brand transformation of AMRI, a leading contract drug manufacturing organization, emphasizing its ability to take drug development 'from curiosity to cure.' That's the core positioning and tagline VSA developed as it's transformed the company to Curia. The new rebranding effort rolled out last month.
AMRI, which began as Albany Molecular Research, Inc. (AMRI) in 1991, tapped VSA Partners to handle the assignment, which the agency turned around in a little over six months. Its brief involved simultaneous strategy and design processes that addressed naming, messaging, brand identity, a website overhaul, environmental branding, sales enablement, social media and advertising.
"Given the importance and emerging challenges of scaling drug discovery and manufacturing today, this was an exciting project for everyone at VSA," said Joe Nio, head of strategy and analytics for VSA. "We tapped our Promise to Performance™ methodology to discover unmet needs where the industry wasn't serving customers fully and helped identify unique segments within Curia's target audience. The results, we believe, position Curia well for today's fast-changing and demanding pharmaceutical landscape."
For development of the new name, Curia, VSA relied on its proprietary naming process, said Mike Walsh, VSA's Client Engagement lead. The origin was an early Roman word that means 'a gathering of minds.' "It has a lyrical quality that also alludes to the promise of medicine," Walsh noted. The new logo utilizes a stylized molecular icon to form the dot in the lower case 'i' in Curia, which links the mark to the previous AMRI brand identity.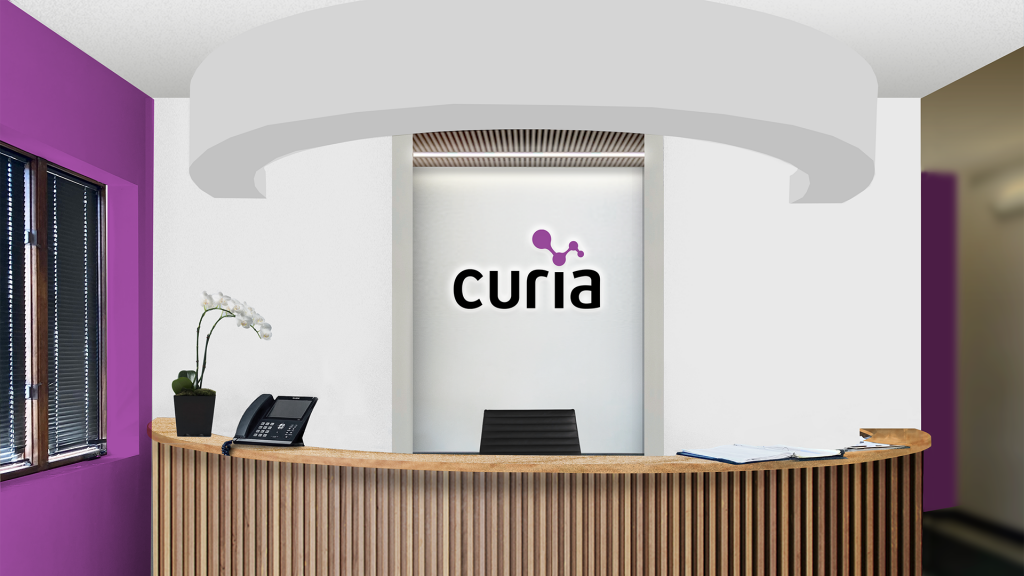 "In a category where playing it safe has led to a sea of sameness among competitors, we created a bold expression system that balances scientific expertise with respect, and compassion for the human lives we impact," said VSA Partners Thom Wolfe, Executive Creative Director.
"What impressed us about VSA from the start was their ability to quickly get smart on a complex business," said Kerry Hutchings, Head of Global Marketing at Curia. "The combination of strategic thinking and creative execution has helped set Curia up for success."
CREDITS:
Agency: VSA Partners, Chicago, New York, San Francisco
Joe Nio, Associate Partner, Strategy Director
Chandni Shah, Strategy Director, Media
Ryan Monroe, Strategy Director, Data Analytics
Linda Vo, Strategist, Media & Analytics
Thom Wolfe, Associate Partner, Creative Director
Sarah Trent, Associate Creative Director
Cameron Leberecht, Associate Creative Director
Andy Blankenburg, Partner, Writing
Tarek El-Mofty, Associate Partner, Creative Services Director
Bryan Haney, Associate Director, Motion Producer
Thomas Horne, Motion Editor, Director
Melanie Trombley, Art Producer
Nick Lo Bue, Associate Partner, Digital
Jehan Cowan, Creative Director, Digital
Alberto Cristancho, Director, Development
Bill Maday, Creative Director, Writing
Mike Walsh, Associate Partner, Client Engagement
Susan Pfiefer, Associate Partner, Project Management
Sarah Kuhl, Senior Project Manager
Kate Barr, Project Manager
Source: VSA Partners