"A non-lethal bullet may not kill you," a new PSA's closing copy reads. "But you might just wish it had." Wunderman Thompson Austin, a WPP agency, announced today the launch of its PSA created with the goal of banning rubber bullets in the U.S., hoping to educate people on the life-altering injuries that "non-lethal" rubber bullets can cause. The agency has also built the website FreeStreetsNow.com, where people can learn more about the damages caused by so called "non-lethal" ammunition and sign a petition to ban rubber bullets.   
Inspired by horrific injuries including a permanently brain damaged college student incurred by protestors in Austin, Texas, the 30-second spot opens as a barrel of a gun fires a rubber bullet in super slow-motion. The soundtrack is of people scrambling when a protest is being disrupted by police. A woman appears to scream and then cry out, "I'm shot!"
The devastating impact of the rubber bullet shots—which are well lit and filmed against a black background—are shown in incredible detail as they annihilate a mango, a wine glass, a water balloon, a cauliflower, and a watermelon to replicate the type of damage they can do to human bodies. A 60-second version shows additional artful-yet-catastrophic explosions.
This work was done pro-bono by people in the Austin Film and Production community because they were shocked and sickened by recently seeing Austin Police use "non-lethal" ammunition on peaceful protesters.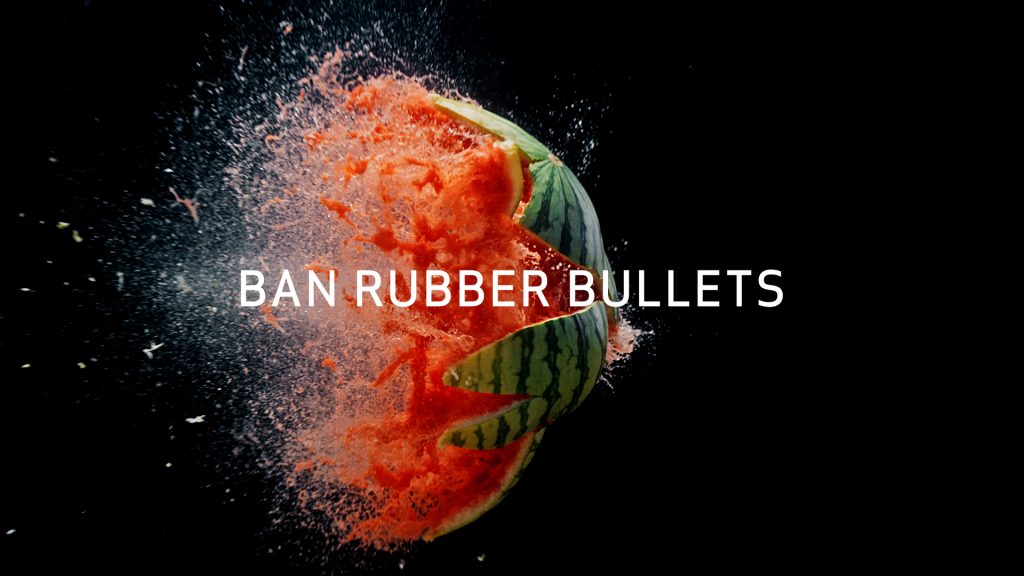 Local Austin director Dan Brown and his team at Royale Film Company were integral Wunderman Thompson partners in the project. "Dan picked up the phone and the next thing we knew, Austin's best and brightest were asking "When do we shoot?" said Wunderman Thompson Creative Director Gene Blakeney.  "Dan hooked us up with the amazing Karen Jacobs and her scary talented people at TBD Post, the pros at ATX grip, found our location and then pulled the ultimate rabbit out of the hat securing not only a camera operator, but a Phantom camera itself, the legendary super high-speed camera that can shoot over 10,000 frames per second," continued Blakeney.
 "People hear 'Non-Lethal' or 'Rubber Bullet' and immediately assume that such munitions are benign," Wunderman Thompson Creative Director Tom Miller explained. "But as we have seen lately, these projectiles can cause ghastly, life-altering injuries. In fact, 1 out of 5 incidents end in death or permanent injury. Our PSA combines real-life footage with breathtaking cinematography to demonstrate that message in a non-exploitative way and to deliver it to a wider audience," continued Miller.
Creative Credits
Agency: Wunderman Thompson Austin
CD/Writer: Tom Miller
CD/Art Director: Gene Blakeney
CCO: Steve Miller
Agency Producer: Charles Mulford
Production Company: Royale Film Co.
Director: Dan Brown
Producer: Charles Mulford
Director of Photography: David Blue Garcia
Art Director: Chris Combs
Gaffer: Scott Cremeens
Phantom Tech: Robert Matthews
BB Electric: Brad Keffer
Key Grip: Mike Anderson
PA: Abigail Slider
PA: Beau Harris
Phantom Camera: 4:4:4 Camera
Grip and Electric: ATX Grip
Generator: MPS
Location: Nick Cole
Thanks to: Adrian Trent, Rich Bond, Justin Seyb, Meredith Stephens, Logan Cooper, Impeccable Pictures
Post-Production: TBD Post
Executive Producer: Karen Jacobs
Editor: Catie Cacci
Color: Brandon Thomas
Sound Design: Dusty Albertz and Brad Engleking
Mix: Brad Engleking
Finish: Dennis Valk and Kagan Durmer
Music: Hanan Townshend 
Source: Wunderman Thompson