The creative project "Not in Milano" shows the city as the ideal destination for business tourism, where the work sphere and high quality of life go hand in hand.
The pandemic has had a negative effect on many sectors, including business-related tourism. With three-quarters of the Milanese and Lombard population already vaccinated, Milan – which continues to closely monitor the international health situation – has reopened and is experiencing a renaissance, as tourists resume travelling for business and pleasure.
To support this return to international travel, Milano & Partners and YesMilano, together with We Are Social Italy, have launched a new international campaign, Not in Milano, which aims to promote the city as the ideal destination for business trips – able to offer the perfect balance between work and leisure – through digital out-of-home billboard advertising in London and Milan. The project also includes a social-first digital campaign that will run simultaneously to audiences in New York, Berlin and Paris, as well as in London.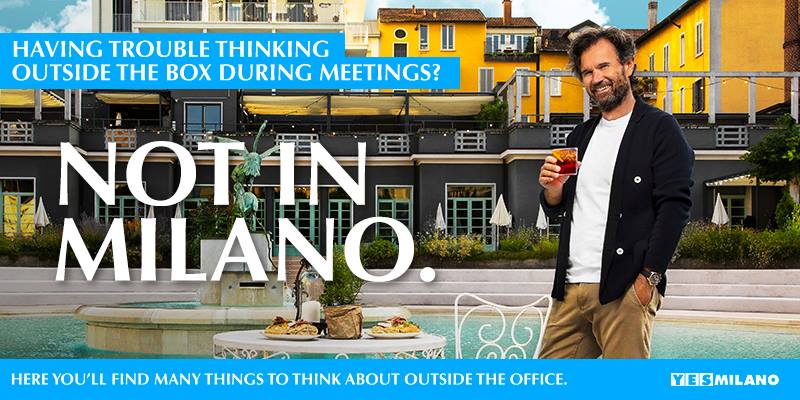 The 'Not in Milano' campaign identifies some of the pain points of business travel and highlights how Milan is a city that combines professionalism with an excellent quality of life, where you can do business while enjoying a rich cultural heritage and incredible contemporary fashion and design, all while being located in the perfect hub to reach Italy's other major tourist destinations.
The campaign video, hosted on YesMilano's YouTube channel, poses questions such as: "Do you ever run into the first appointment of the day without having had your cappuccino? Not in Milano!" and "Do you ever spend your entire business trip counting the days that separate you from vacation? Not in Milano!" While the billboard advertising includes a series of testimonials from people with strong links to the city, including designer Margherita Maccapani Missoni, gallery owner Rossana Orlandi, chef Carlo Cracco, and Alberto Dalmasso, the CEO & co-founder of Satispay.
The campaign's concept and strategy were developed by We Are Social Italy, the strategic and creative partner of YESMilano, with We Are Social Studios playing a key role in its production, including photography and post-production.
"This unprecedented marketing campaign comes at a pivotal moment for our city and for an entire country affected by the pandemic, showing the energy, dynamism and strong spirit of resilience with which Milan is ready to give the warmest welcome to anyone coming to our city for business, tourism and study," said Mayor of Milan Giuseppe Sala.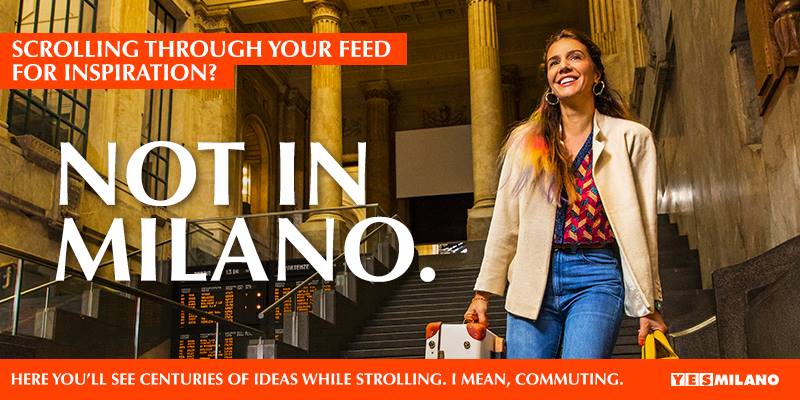 "The 'Not in Milano' project is particularly close to our hearts because Milan is our city, the city where the agency was born and has steadily grown over the past 11 years. We like the idea of giving something back to a place that gives us so much. In fact, collaborating with Milano & Partners and YesMilano allows us to actively contribute to its restart, in a still delicate phase, enhancing all the best that the city has to offer, even on the international scene," said Gabriele Cucinella, Stefano Maggi and Ottavio Nava, CEOs of We Are Social Italy.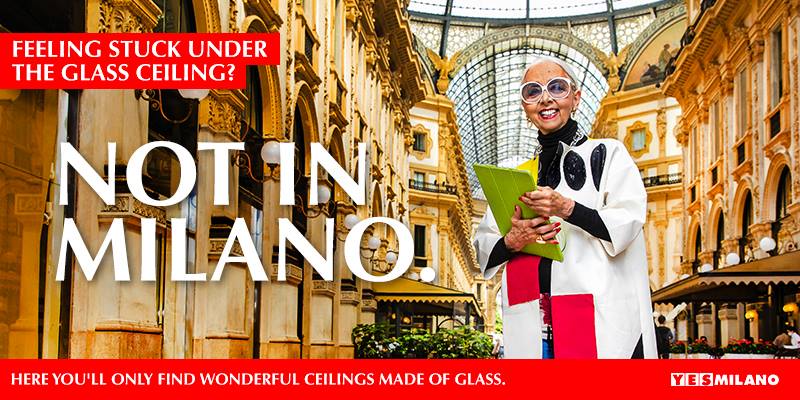 Credits
Agency: We Are Social Italy
Executive Creative Director: Alessandro Sciarpelletti
Executive Creative Production Director: Daniele Piazza
Senior Creative: Paola Cantella
Art Director: Alessandro Lazzaro
Editor: Andrea Ruscitti
Senior Account Manager: Diego Vallieri
Account Executive: Maria Giulia Verità
Head of Strategy: Bruno Tecci
Strategy Supervisor: Francesco Marcucci
Photo Production by We Are Social Studios:
Head of We Are Social Studios: Sandro Amabili
Producer: Leopoldo Dondena
Photo: Alvise Guadagnino, Viviana Bonafede
Video production by H+:
Film Director: Victor Schnur, Ludovico Galletti
Director of Photography: Alessandro Bolzoni
Editing: Anna Lapiccirella
Producer: Matilde Ortona
Media: Wavemaker
Communication Director: Patrizia Troccoli
Senior Communication Planner: Silvia Villa
Digital Planner: Giacomo Rota
Head of International & Production Out of Home – Kinetic: Giancarlo Turturici
Thanks for the collaboration to:
Bagni Misteriosi of Teatro Franco Parenti
Camparino in Galleria
Grandi Stazioni (Stazione Centrale)
PwC Italy
Rosa Grand Milano – Starhotels Collezione
Source: We Are Social