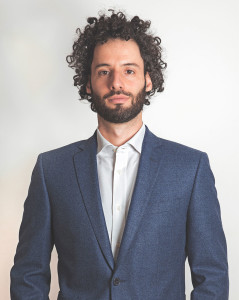 Y&R Global Chief Creative Officer Tony Granger and Andrew Dimitriou, Y&R's CEO of Europe, announced the appointment of Jaime Mandelbaum as Chief Creative Officer of Europe. The São Paulo-born creative who has served as Chief Creative Officer of Y&R Central & Eastern Europe since 2013, will now oversee the global ad agency's creative efforts across Continental Europe.
"Jaime has done an outstanding job as our creative leader in Central and Eastern Europe," said Granger. "The work is innovative, inventive and engaging, and it's gaining recognition on a global stage. As Jaime gets involved with Western Europe now, I know that our agencies and clients will benefit from his thoughtful leadership."
Since his arrival at Y&R Prague's office in 2007, Mandelbaum has helped transform the agency into one of the market's most innovative and awarded agencies. He helped build the office into an Agency of the Year award-winner shortly after joining, and was an integral part of the office's first Cannes Lion win since the early-1990s.
In just one year under his regional leadership, Y&R became the most-awarded network in all of Central and Eastern Europe at Cannes 2014 and 2015. Mandelbaum, who also sits on the Y&R Global Creative Board, was instrumental in helping the network develop work that brought the Czech Republic its first and second Gold Lion ever, as well as the first Grand Prix for Turkey earlier this year. Under his creative leadership, Y&R was named Network of the Year and won six Grand Prix awards at the 2015 Golden Drum Awards.
"I'm really excited to take on this new role. There is both great work being done across the region and still a lot of untapped potential." Mandelbaum said. "It will be my responsibility and delight to help great ideas come to life in the most powerful and appropriate way. I am looking forward to working with the enormous talent we have across the region. We are all in this together."
Mandelbaum will work closely with Dimitriou and Saul Betmead, Y&R's Chief Strategy Officer in the Europe, Middle East, and Africa markets, to leverage Y&R's offerings across Europe.
"I am so pleased to have Jaime take on this larger role in Europe," said Dimitriou. "He is a real creative force and his enthusiasm and passion are infectious. In a short time, he has not only elevated the creative output of Central and Eastern Europe, he has helped the offices work together more collaboratively. I look forward to working alongside him as we continue to build on the many strengths of the region."
Prior to joining Y&R, Mandelbaum worked at Leo Burnett Prague, Jung von Matt Hamburg, Kaspen Jung von Matt, and TBWA\Berlin. He has worked on clients including Adidas, Absolut Vodka, BMW, Danone, Harley Davidson, PlayStation and Nike, and his work has won awards at Cannes, ADC New York, The One Show, D&AD, CLIOs, London International, Eurobest, NY Festivals, and ADC Europe.