23andMe, the leading personal genetics company, today launched Portraits of Health, the company's first television advertising campaign.
The campaign focuses on educating consumers about how understanding their DNA can help them make more informed and proactive health decisions. The campaign will also build brand awareness for 23andMe.
The campaign, features people discussing their real 23andMe results, visualized as graphics to help illustrate what they learned about their health by exploring their DNA.
Portraits of Health targets individuals who seek to obtain information about their health in order to develop a personalized plan to proactively prevent health issues so that they can live a longer, healthier life.  The advertising campaign seeks to introduce 23andMe to these individuals as a trusted partner for taking control of their health by learning about their own DNA.
In addition to hundreds of personalized reports about an individual's genetic risk factors for various health conditions, 23andMe also provides reports on how a person's DNA influences their response to certain medications and their physical traits as well as information about their genetic ancestry.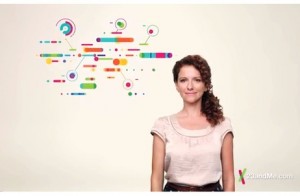 The company's Personal Genome ServiceÒ is available for purchase online for just $99. Individuals provide a saliva sample by simply spitting into a small tube that is then mailed back to a CLIA-certified laboratory for analysis. Results are provided in a few weeks through an individual's secure, password-protected 23andMe online account.
"Our goal with this campaign is to provide consumer education and raise awareness about the potential of personal genetics, while also establishing 23andMe as a recognized and trusted brand," said Andy Page, president of 23andMe.
"23andMe pioneered direct-to-consumer genetic testing and our investment in advertising also represents a first-of-its-kind TV campaign that pioneers advertising for the direct-to-consumer genetic testing industry as well."
The Portraits of Health television campaign will begin with a national buy, mostly through cable networks.  The company expects to spend up to $5 million in 2013 with additional investment planned for 2014.
Portraits of Health also complements current trends in consumer behavior that have individuals taking a more active role in managing their health.  As people become more involved in managing their health and the health of their family, they are looking for information that can help them make more informed decisions, a trend exemplified by the growing popularity of health-specific devices and digital health tools.
Arnold Worldwide in New York, the global communications company that created one of Adweek's "Best Female Brand Mascots" and co-created Advertising Age's "Campaign of the Decade", created the campaign.  Buck, a design-driven production company, directed and animated the television commercials.
"We wanted to illustrate the power of 23andMe through the stories of individuals – highlighting their moments of realization, their feeling of empowerment, and the impact that it can have on their health," Aaron Griffiths, Chief Creative Officer, Arnold Worldwide, New York. "23andMe is the only company doing what they do, which makes our responsibility that much greater. We're not just creating a new brand; we're defining a whole new category. They are an exciting and outstanding partner."