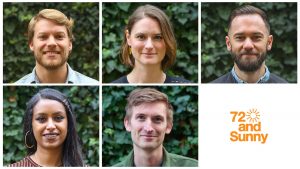 72andSunny Amsterdam has expanded its team in the Netherlands with a number of new hires as part of its drive to boost its creative power to higher levels.
Chris Colliton and Kevin Weir join as creative directors. A strong duo with a phenomenal portfolio of work and a humorous tone, they have specific account responsibility for Uber. Previously at Droga5, they recently picked up a Titanium Lion at the Cannes Festival for Creativity for work for Tourism Australia.
"72 Amsterdam has that secret sauce you always look for in an agency: great leadership, crazy ambition and an energy you can feel as soon as you walk through those Dutch doors," said Chris.
Nedal Ahmed joins as senior writer, with specific responsibility for the adidas partnership. She brings a track record of making work that has a lasting impact and has notably worked on P&G, attracting a range of accolades at the most prestigious advertising awards ceremonies across the world.
"It's an exciting time to be here, and I'm looking forward to contributing to where we're taking the agency creatively and culturally. Producing impactful creative at a global level will be my focus, and I believe 72andSunny Amsterdam is well equipped to lead the industry on that front, from the diverse makeup of the people at the agency itself to the expertise, talent and craft we all bring," she said.
Anne Graham joins as group brand director with specific account responsibility for Google. Previously VP of business development and strategic partnerships for the non-profit (RED) her varied career included five years spent at Major League Soccer as director of partnerships.
"When 72andSunny called I was blown away by the calibre of talent, the vibe in Amsterdam and the amazing, amazing people," she said.
Kirk Johnsen also joins as group brand director, specifically to work on adidas. Previously group brand director at Wieden + Kennedy Amsterdam, he co-led W+K's future-forward emerging technology unit and has won a range of awards across clients such as Nike, Corona and EA Sports.
Johnsen said: "At 72andSunny Amsterdam you get such a talented group of misfits, always with a sunny disposition. That's a rare breed. I'm just excited they let me in the door."
Carlo Cavallone, Executive Creative Director and Partner at 72andSunny Amsterdam, said: "These appointments reflect our ambition to unleash the power of our creativity and to develop work that's genuinely unignorable. We're serious about elevating the diversity and talent in our team and our new people embody this."
Source: 72andSunny