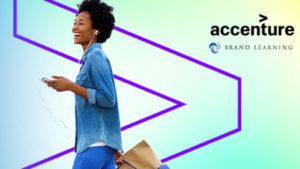 Accenture has acquired marketing and sales capability consultancy Brand Learning, to help organizations drive sustained customer led growth by enhancing their marketing, sales, HR and leadership capabilities. The terms of the transaction were not disclosed.
Brand Learning has a strong track record in helping more than 160 clients in over 60 countries across a broad range of industries with their customer strategies and vision, new operating models, process development, content, cultural change and learning programs. The acquisition strengthens Accenture's ability to drive end-to-end marketing and sales transformation for clients by creating a seamless service spanning marketing and sales strategy, organizational design and industry-specific consulting. It will also link with the digital design and engagement capabilities of Accenture Interactive.
Headquartered in London with regional offices in New York and Singapore, Brand Learning employs approximately 120 people globally. Its experienced, high level advisory team will be combined with Accenture's Customer and Channels management consulting and industry experts.
"More than 90 percent of CMOs say marketing will undergo fundamental change in the next five years, driven by analytics, digital and mobile technologies," said Laura Gurski, senior managing director and head of Accenture's Customer & Channels practice for consumer goods and services, retail, travel, life sciences, automotive and industrial industries.
"With increasing digital innovation and personalized customer engagement, the marketing and sales functions are now seen as the key driver of top-line growth. Accenture's acquisition of Brand Learning, with its impressive track record in building client capabilities in marketing and sales strategy and organization change will further enable us to help clients deliver more integrated customer experiences across the organization – to drive and manage that business growth."
"Accenture is a leading global force in digital transformation and it is very exciting that we are coming together and that our talented team will also help contribute to the development of deeper consulting capabilities within Accenture," said Mhairi McEwan, executive president and co-founder of Brand Learning. "Being part of Accenture will allow our clients to benefit from a seamless service, building their marketing and sales capabilities to create the outstanding and connected customer experiences needed to drive growth."
Brand Learning has served leading organizations across consumer goods, retail, life sciences, automotive, resources and financial services industries and has capability experts in 16 countries.
Brand Learning helped one retailer build its marketing capabilities and establish a common way of marketing in its Foods division, increasing its customer experience Net Promoter Score (NPS) by 14 percent in recent years. Work with a large consumer products company's program for sales and commercial leaders focused on enhancing the capabilities of teams on the ground and building sales, commercial and leadership skills.
Brand Learning brings a diverse workforce with a significant proportion of women in senior leadership positions, including its executive president and co-founder Mhairi McEwan and over 60 percent of its operating board. It has been awarded numerous industry excellence awards for both its client work and its pioneering family-friendly culture in servicing multinational brands.
Source: Accenture