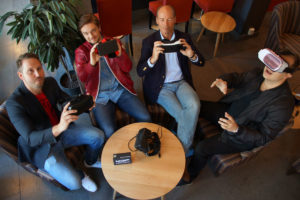 Ad tech company Advrty introduced the beta release of their patent pending VR platform for native advertising. The company makes immersive ads seamlessly integrated into three-dimensional worlds of VR games and applications.
The platform enables advertisers and brands to meet their consumers in new and innovative, context-driven experiences. The technology will be presented at Pocket Gamer/XR Connects in Helsinki on September 19–20.
Niklas Bakos, the CEO and co-founder of Advrty, wants digital advertising in VR and AR to become as visually powerful as traditional physical advertising, with the benefit of being interactive and truly measurable. "Powerful advertising shouldn't have to be intrusive. In VR the playroom is big enough, so let the consumers find the ad and decide their level of commitment toward it."
First-mover marketers get the advantage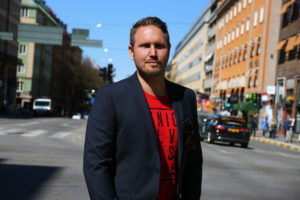 Bakos is excited about the opportunities. "It's very rare for a new medium to emerge. We want to offer pioneering marketers the opportunities to take advantage of this new technology," he says.
What excites many advertisers about the platform is the measurability within this new media. Advrty has built a patent pending algorithm that measures how, what and where the users are looking at surfaces and objects. Advertisers only pay for actual views or interactions, which is hard to track with current ad technologies outside of VR and AR.
These new marketing opportunities have also stirred up interest from Coca-Cola, one of the biggest advertisers in the world.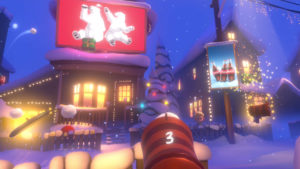 "The trajectory of VR and immersive experiences is only beginning. As the technology improves, more users will come along. But we can't assume that what works for advertising in the real world will work in the virtual world. So it's important for Coca-Cola to understand and measure user preference. And Advrty gives us the ability to do just that," explains Tyler Torti, Digital Innovation at The Coca-Cola Company.
Helping developers to monetize virtual reality content
The VR advertising platform allows publishers to monetize their creations through an alternative revenue stream. It has the potential to become the standard of advertising platforms as it is available as a Unity plugin, with Unreal Engine support to come, and is therefore applicable to more than 90% of all available VR content.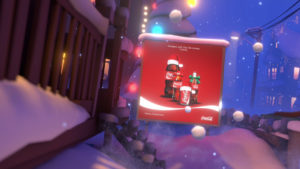 Advrty has teamed up with Hatrabbit, a new VR games studio run by former EA and Rovio veterans, previously involved in crafting some of the world's largest PC and mobile games like Battlefield and Angry Birds 2.
"Creating VR content is still in its infancy and we're looking at how to best monetize this platform. Advrty's solution is easy to integrate and work with and fit our game Merry Snowballs perfectly," says Joakim Svärling, co-founder of Hatrabbit.
Source: Advrty