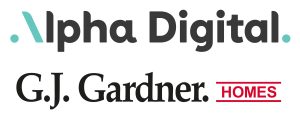 Digital Marketing agency, Alpha Digital has won the Performance Advertising and Digital Experience accounts for GJ Gardner Homes Australia.
GJ Gardner is recognised as Australia's most trusted national home builder and has over 200 HIA and MBA building awards under its belt. The culture fit between GJ Gardner Homes and Alpha Digital is seamless, with both businesses committed to integrity and reliability, while keeping their customer's best interests at heart.
Through a data-driven SEO, paid search, lifecycle marketing, and conversion rate optimisation strategy, traffic and enquiries are already up 17%.  
"Navigating the digital marketing landscape is an ever changing journey. You constantly need to be ensuring that the team advising you is up to date with the latest best practice standards to give that competitive edge and keep your investment in content front of mind. Honesty and trust are major relationship factors. We trust that the guidance we are given is in the best interest of our road map and that if a situation changes we will be informed in a prompt and accountable manner. It is for these reasons that we are proud to be working with Alpha Digital," said Andrew Borg, GJ Gardner's National Marketing Manager.
Alpha Digital has been committed to long term partnerships and outstanding client growth since its inception in 2011.
"I'm very proud to have won this work, but I'm especially proud of the way we won it. We have worked with GJ's new National Marketing Manager Andrew Borg for years when he was Marketing Manager at City Beach and he trusted us so much, that he brought us straight in, without going to the market. It's another example of how highly regarded the team at Alpha are becoming," said Matt Cooper, Alpha Digital's Managing Director.
This most recent win comes off the back of a successful video advertising campaign for Baskin-Robbins, as well as a series of substantial e-commerce partnerships with retail clients, such as Superga and The Upside.
Source: Alpha Digital