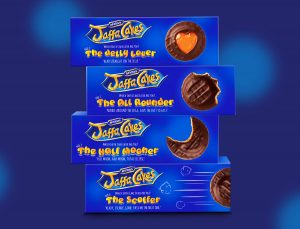 Anthem Worldwide, the global creative agency has partnered with McVitie's owner, pladis group to redesign the Jaffa Cakes range. 2,000 Jaffa Cakes are produced every minute in the UK, 46 for every household in the country each year.
With the revision of all Jaffa Cakes product formats in 2017 to better meet consumer demand, as well as the introduction of a new 'Bought in carry out pack,' Anthem and pladis took the opportunity to introduce more of the brand's fun and cheeky personality onto the pack design through the idea that consumers eat the well-loved brand in a multitude of different ways.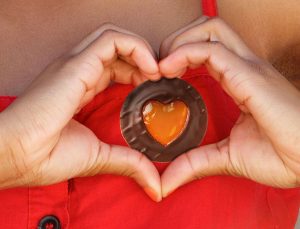 The permanent redesign includes new product photography and illustration applied across all formats and secondary packaging.  Consumers are encouraged to ask themselves which one of the four kinds of Jaffa Cake eater they are.
Maybe No. 1, 'The All Rounder' – 'Nibble around the edge, save the best til last' or No.2, 'The Jelly Lover' – "Head straight for the jelly." Each of these four expressions are showcased on the top panel of the pack in a playful and mischievous way in line with the brand's character.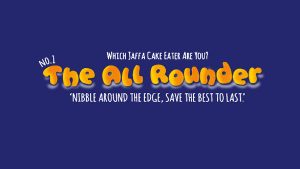 Laura Stebbings, senior brand manager at pladis commented: "The redesign of the Jaffa Cakes range has given us the opportunity to integrate the brand's personality onto the pack and to allow consumers to engage more deeply with the brand through their own distinctive and entertaining approach to eating the product."
Mark Lloyd, creative director at Anthem added: "Jaffa Cakes are iconic and we needed to treat the brand assets with respect, however we were keen to capture consumers' unique relationship with the product while staying true to the brand and its quirky personality."
Source: Anthem Worldwide