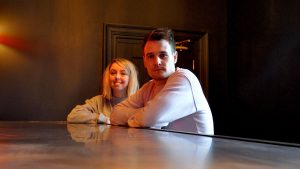 Award-winning digital PR agency Tank is going into 2019 with two new account directors, each responsible for developing PR strategies across an expanding portfolio of clients.
Senior account managers Dan Trussell and Claire Reynolds, who have been with Tank five and four years respectively, are stepping up having already successfully led many of the agency's key accounts.
With experience spanning sectors as diverse as property, AI, retail, emerging technologies, finance and heritage, Dan and Claire will work closely with clients to develop content-led PR, digital and social media campaigns.
Claire, named Outstanding Young Communicator at the CIPR Midlands PRide Awards in 2017, said: "I'm so pleased to have been given this opportunity to develop my leadership skills further, both on my accounts I head up and in the day-to-day running of the agency. We have recently secured a number of new contracts, and have even more in the pipeline, so this is a really exciting time for Tank. I can't wait to get my teeth stuck into the many and varied campaigns we have planned for the New Year."
Her comments were echoed by Dan who said: "Having worked my way up through the ranks, I'm extremely proud to take on the role of account director at this crucial stage in Tank's growth. As well as continuing to bolster my relationships with existing clients, I am also looking forward to working with even more businesses at the cutting-edge of their industries."
The latest appointments round off a successful year, which has seen Tank invest £1million into the purchase and renovation of Nottingham's 5 Kayes Walk, and recently pick up three industry awards – one for Midlands Outstanding PR Agency. It also ranked 156th – the highest of any agency in the East Midlands – in the PR Week Global Agency Business Report 2018.
Source: Tank