Aston Martin introduces Formula 1 ® environment to its award-winning online configurator – live at configurator.astonmartin.com
Virtual experience allows customers to customise their car within the Aston Martin Aramco Cognizant Formula One™ Team pit garage, showcased alongside the AMR23 Formula 1® car
Digital innovation celebrates Bahrain Grand Prix success, with virtual display of Fernando Alonso's third-place trophy
Aston Martin has launched an all-new environment on its multi award-winning online configurator, welcoming customers to spec their own perfect car within the Aston Martin Aramco Cognizant Formula One™ Team's pit garage.
In what is a world first amongst any automotive manufacturer, customers, fans, and dealer partners can now virtually specify any of Aston Martin's breathtaking product range within the high-performance setting of a Formula 1 ®pit garage.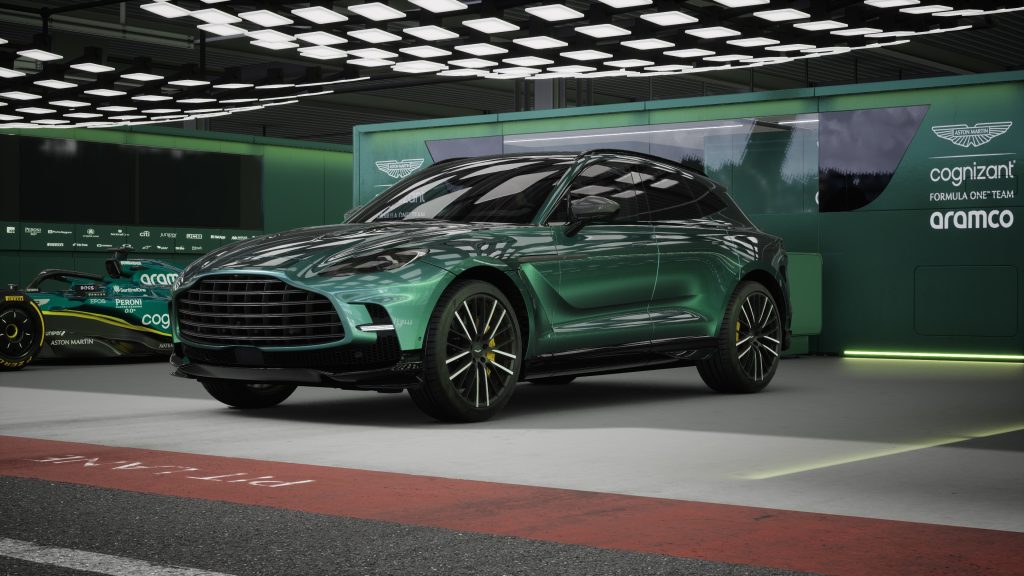 Launched ahead of the second Grand Prix of the season in Saudi Arabia, the new digital environment displays Aston Martin's AMR23 challenger within the garage, allowing customers and fans to take inspiration from the pinnacle of motorsport engineering and design when bringing to life their bespoke interpretation of an Aston Martin.
Following Fernando Alonso's stunning podium finish at the season-opening Gulf Air Bahrain Grand Prix, the online configurator also proudly exhibits the third-placed trophy in exquisite 3D Ultra High Definition detail, allowing users to enjoy the team's first silverware of the season, while having the ability to zoom in to explore every fine detail of the car.
Once the ultimate expression and interpretation of an Aston Martin has been created, customers and fans can download a personalised brochure of their configuration, share their favourite configurations to social media and choose to book a test drive at any point in the process.
Celebrating Aston Martin's 110th anniversary, the configurator also allows users to experience its racing pedigree past and present, through an additional virtual environment of the historic Brooklands circuit, the location of the marque's early forays into racing.
Renato Bisignani, Head of Global Marketing and Communications at Aston Martin said: "Offering a choice of exquisitely designed and Ultra High Definition backdrops – from studio environments to real locations – is a key ingredient to our award-winning configurators success, inspiring our customers to visualise their perfect Aston Martin across global locations, while taking inspiration from the thought-provoking back drops.

"With recent brand research revealing that almost 90% of our customers are passionate about Formula 1 ®, we believe this high-performance inspired environment will draw further synergies between track and road, allowing our customers to spec all of our models from within the Aston Martin Aramco Cognizant Formula One™ Team pit garage.

"Our configurator has always been designed to engage, excite and inspire, with more than half of our customers now using this digital tool during their purchase journey. We are therefore committed to further expanding its offering and developing unique features as part of our focus to deliver luxury digital experiences for our customers."
The Aston Martin configurator can be found at configurator.astonmartin.com
Source: Aston Martin Lagonda