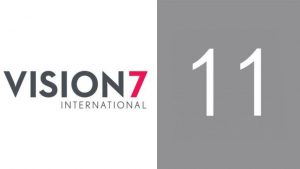 Vision7 International (V7) a subsidiary of BlueFocus International (BFI) announced it has acquired award-winning San Francisco-based creative agency, Eleven. The deal further expands the V7 family of creative, results driven agencies in North America, and it represents the organization's first major advertising brand in the U.S.
Eleven, which was named to Advertising Age's "Small Agency of the Year" list in both 2017 and 2018, is an industry leader that has represented some of the most innovative brands in the world including Google, Apple, Virgin America, Lyft, and Dignity Health.
"When we went to San Francisco to visit Eleven we experienced a group that had built the ideal modern agency model—delivering smart creative at the speed, scale, and impact today's CMO's require," said Brett Marchand V7 Chairman and CEO. "Integrating brand innovation, experience design, advertising content, and media activation is what any consumer-centric client should be seeking in today's era of convergence. We welcome the entire Eleven team to the V7 family and very much look forward to helping each other grow and become even better partners to today's brands."
Eleven's creative work was recently recognized with two wins at Cannes Lions. This included a Gold Lion: Creative Data/Use of Real-Time Data and a Silver Lion: Digital Craft—both for Google Cloud March Madness Live Predictive TV campaign, which was also honoured as the Ad Age Small Agency Campaign of the Year, B2B.
Eleven has a team of approximately 100 people under the guidance of partners: Courtney Buechert, Michele Sileo, Jarett Hausske, Mike McKay, Michael Borosky, Rob Price, and Ken Kula.
Aside from generating industry leading creative work for their clients, part of Eleven's success comes from the agency's flat structure and diversified revenue streams, including a balance between Agency of Record (AOR) and project-based relationships. This approach has led to the agency's most successful year ever in new business wins and 30 percent revenue growth, projected at US$29 million for 2018.
"Today's CMO's need help navigating the complex world of experiences, content and conversations that consumers engage with on a daily basis," said Courtney Buechert, CEO of Eleven. "Eleven has 20 years of experience creating the type of big, elastic creative ideas that blur the lines between product, marketing, content, and experiences—all coalescing around the consumer. We have ambitious goals to help our clients adapt to this ever evolving landscape and have been looking for the right partner to help us achieve that growth. From the similarities in our agency cultures to our shared belief in the importance of creativity, curiosity and intellectual rigor, we have found all of the complementary capabilities we've been looking for in V7."
Campuses will be built in San Francisco and Chicago with Eleven as the creative hub and will include other agency offerings from the Vision7/BFI family. This campus model will allow leadership to build bespoke teams for clients comprised of best of breed talent from the V7 roster of agencies. Eleven's location in San Francisco will also allow the other V7 agencies to benefit from the agency's established presence in Northern California, including working closely with the group's list of technology and healthcare companies.
"Our vision is to build the propel-co of the future, not the holdco of the past," said Marchand. "We are adding brands like Eleven into our portfolio and helping them achieve growth and synergies with other businesses in our network that have intelligent data, e-commerce, performance, and mobile strategies at their core."
Madison Alley Global Ventures acted as the exclusive strategic M&A advisor to Eleven on the transaction while V7i was supported by RD Venture Partners.
Source: Eleven