In France, in pretty much every position, a woman earns on average 25% less than a man.
To highlight this issue French bagel house, Bagelstein decided to participate and be a driving force behind this struggle; by doing what they do best… making bagels!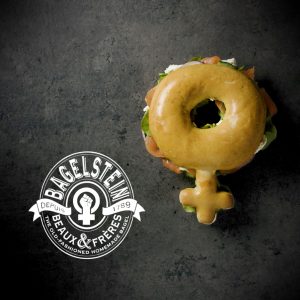 On March 26th, during Equal Pay Day, and in all the Bagelstein shops across France, every woman will have the chance to order a very special and iconic bagel.
Called the 'Womenstein', the bagel will be shaped like the feminine symbol; a symbol that represents 25% more bread than a classic bagel, with 25% more topping.
"At Bagelstein, we firmly believe that a bagel tastes better when you're happy. That's why we're always trying to make you laugh or smile. But while humour is important, we also want to be part of more serious causes such as the current issue about the pay gap between men and women," said Bagelstein in their release. "It is our aim to one day close the pay gap between men and women, so annual events such as Equal Pay Day can eventually disappear from our calendar for good."
The promotion was devised by creative agency, Famous Grey Paris.
Source: Famous Grey Paris