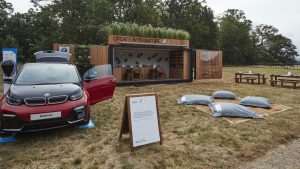 BMW i and the National Trust have teamed up to roll out their 'Create with Nature' roadshow for the second year as part of an ongoing partnership. The series of workshops demonstrates to visitors how to make beautiful objects out of sustainable and natural materials at National Trust places.
The activation, developed by marketing services and representation agency Wasserman, aims to increase advocacy and consideration for the BMW i3, as well as highlight the benefits of electric mobility. At the heart of the campaign is a series of free immersive-play workshops which take place at picturesque National Trust places including Buckinghamshire's Waddesdon Manor, North Yorkshire's Fountains Abbey, and Attingham Park in Shropshire.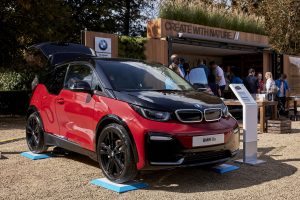 Visitors will be invited to get creative using pebbles, plants and wood, to make objects they can take home, including a geometric glass terrarium with a plant inside, a log planter or a framed pressed plant.
Sophie Chiappe, BMW i marketing communications manager says: "Visitors to the National Trust care deeply for the natural world around them, and they want to protect and learn from it. These values are part of the i3's DNA. It may be a technological tour-de force, it may have cutting edge design features, but, at its heart, the BMW i3 is a response to the needs of the natural world, and this campaign is a great reflection of that."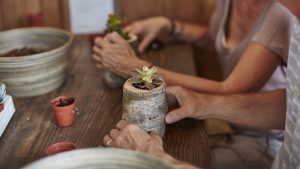 Jassy Zirger, corporate partnerships manager at National Trust, adds: "Like us, BMW i is inspired by nature. It's championing innovation with its range of cars to make travel more sustainable; this focus makes BMW i an obvious choice as our exclusive automotive partner. This campaign will not only raise awareness of sustainable travel alternatives, but it will also provide a fantastic experience for visitors to National Trust places."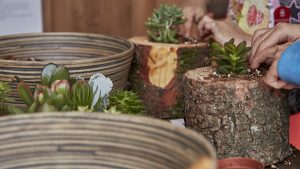 Ben Knight, senior account director at Wasserman adds: "Rather than trying to educate visitors with a passive, exhibition experience, the Create with Nature roadshow is taking a more playful and interactive approach that actively engages with visitors. We're looking forward to hitting the road with the experience this weekend."
The Create with Nature campaign kicks off at National Trust property Cotehele, Cornwall on the 11th and 12th May. 
Source: Wasserman