Bombay Dyeing, one of India's most trusted brand in Home Décor, along with The Times of India, India's largest English newspaper daily, have joined hands to launch a unique cause called #TakeBackSleep.
Launched just before Diwali, the campaign highlights the importance of adequate sleep for physical health and mental agility and calls attention to the apathetic attitude that young adults have towards their sleep routines. Excessive use of screens, work and social stress, work life imbalance, unhealthy lifestyle habits etc. are leading causes of poor sleep habits. In a world where millennials glorify the 'sleep less culture', there is a pertinent need to educate and sensitize the generation about the need for adequate sleep.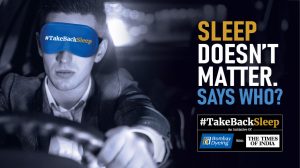 Sleep deprivation and sleep related disorders have emerged key factors that are directly and indirectly leading to physical and mental health issues among the urban Indian population. As a parent or care-giver, one is very sensitive to sleep habits of their wards. Parents monitor the child's screen time and their sleep routines.
However, the same adult is careless about own sleep routines. Sometimes there is even a misplaced pride in sleeping less or being sleep deprived. The problem becomes more complex as there is a serious reservation, bordering shame, in talking about sleep disorders.
The multimedia campaign aims to make India realize the need for proper sleep habits, and not fall into a 'sleep debt'. It will engage with the millennials across print, radio, digital and television. Through a series of short films, conversations, interviews and debates, #TakeBackSleep is designed to educate, sensitize and showcase the need to adopt good sleep habits along with diet and fitness routines.
The campaign dons an optimistic and sensitive tone as it presents relatable situations from daily lives of millennials when they have been neglecting sleep. The campaign is supported by a panel of sleep experts to share deep insights and advise on good sleep habits. An interactive Sleep Quiz has been designed keeping in mind the modern lifestyle habits. Using contemporary scenarios, this Sleep Quiz draws attention to triggers for sleep deprivation.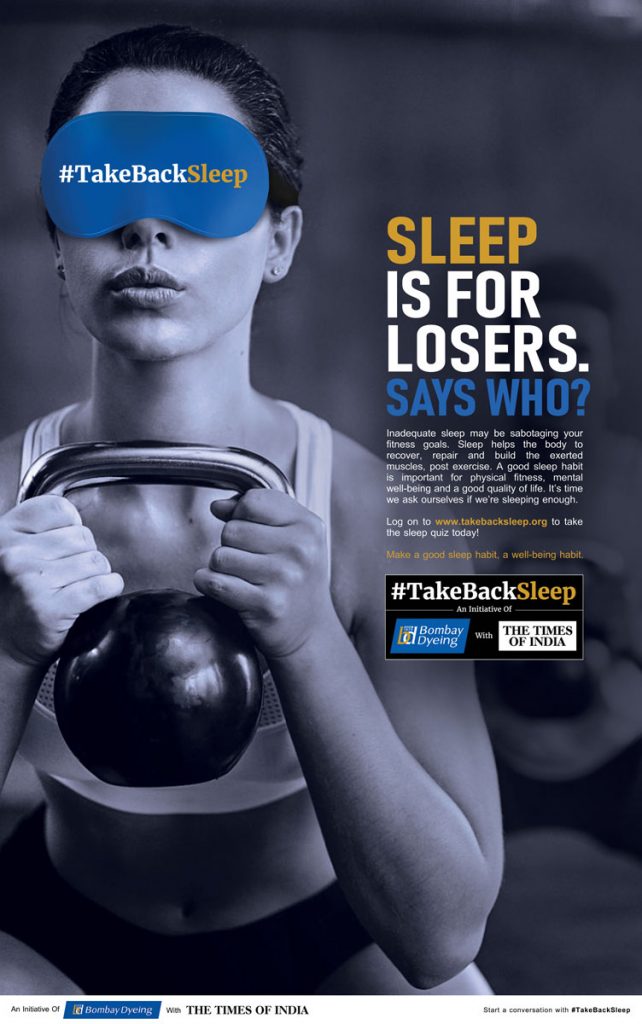 Speaking about the campaign, Jeh Wadia, MD of Bombay Dyeing said, "For 140 years Bombay Dyeing has provided comfortable sheets, duvets, pillow cases, mattresses and pillows that have helped millions of Indians to have a sound sleep. As a market leader, I feel it is incumbent on Bombay Dyeing to make everyone realize the importance of 8 hours of sleep – 1/3rd of our lifetime. And by the way it is one of the longest and most consistent activity in our lifetime. Our internal research shows that millennials are sleep deprived due to variety of reasons. Bombay Dyeing presents #TakeBackSleep campaign, where we intend to educate the virtues of adequate and sound sleep. My biggest learning is that leading a fit lifestyle is not limited to working out, eating healthy and meditating, it is also about giving your body the rest. I choose to spend 1/3 of my lifetime with Bombay Dyeing, I hope and suggest you do too."
Speaking about the initiative Dr. Aloke Banerjee, CEO-Retail,Bombay Dyeing said, "The statistics on sleep debt was quite astonishing and we knew that we could help make a difference. #TakeBackSleep is an endeavour towards building a fitter and healthier India, especially the urban Indian population. Keeping in mind our aim, we are glad to have partnered with The Times of India to help extend the reach of our campaign across the nation."
Excited about this initiative, Sanjeev Bhargava, Director, Brand TOI, said, "As India's largest news media brand, it is our responsibility to enable a better India. However, in the relentless pursuit of growth and glory, the millennials often compromise on sleep hours. A positive mind and a healthy body are essential for a prosperous future. And, we cannot achieve that if majority of India is sleep deprived. We hear a lot of chatter around diet and fitness routines, but we rarely read about the need to rest and sleep well. Therefore, we are glad to partner with Bombay Dyeing for this campaign that rightly urges the 'always-on' generation to adopt good sleep habits, so that they rest well and are ready to soar higher echelons of success."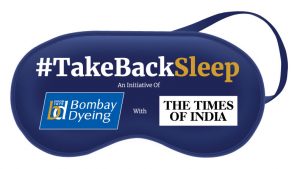 A good night's sleep is incredibly important for one's health, but often that is not given the due importance. Today's generation is always on the move, packing in more every day, stretching the work hours, socializing and hooked on the screens.
There are reams of literature and content created every single day to educate on better nutrition, fitness regimes, workouts, stress management, weight loss and preventive health care. Yet, there is hardly any talk of better sleep management and the ill effects of sleep deprivation.
Taking this conversation ahead, and reinstating the importance of good sleep habits, the initiative is geared to jolt people out of their neglectful sleep habits and urge them to re-think their sleep patterns and make good sleep habits a part of daily routine.
Source: Bombay Dyeing