Boundless Brand Design has partnered with Royal Salute, the master of exceptional aged Scotch whisky, to mark the start of a new era of contemporary monarchy with a precious limited-edition expression, the Royal Salute Coronation of King Charles III Edition.
Since its inception, Royal Salute has honoured the British Monarchy and marked significant milestones with unique expressions that represent and embody a moment in history. As the Scotch originated as a Coronation gift 70 years ago, there couldn't be a more fitting moment for Royal Salute to pay homage once again.
Expertly crafted by Royal Salute Master Blender, Sandy Hyslop, the coveted expression is a timeless whisky to be treasured and savoured for years to come. A blend of over 53 rare malt and grain whiskies bottle as cask strength in homage to the coronation of Queen Elizabeth II in 1953, and the inception of the Royal Salute story.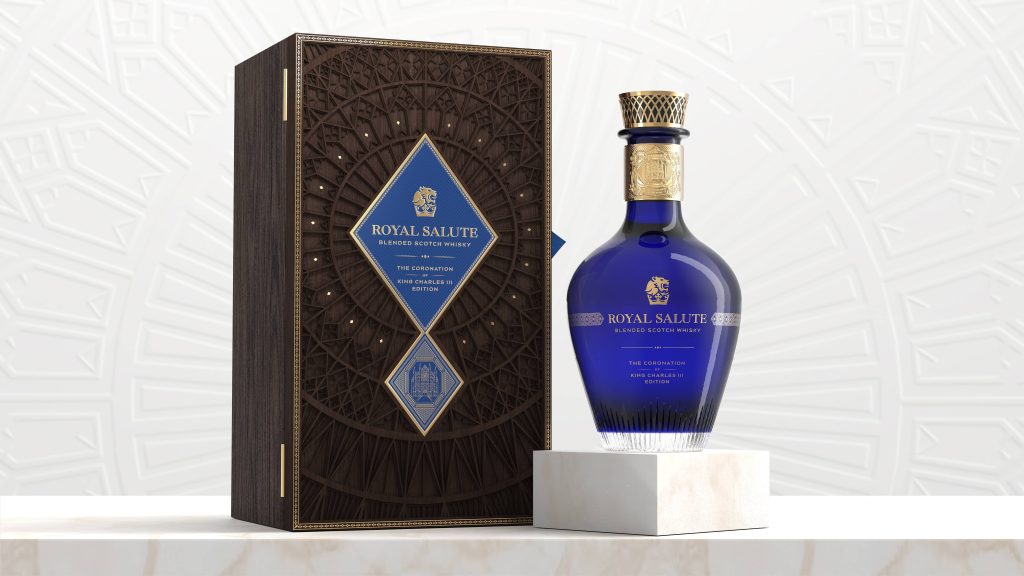 The design brief was to create a bespoke, celebratory design expression of the ultimate Royal ceremony. The whisky was to be the ultimate collectable, a stand-out design of artistry to house the special blend.
Boundless Brand Design drew inspiration from London's home of Royal Milestones, Westminster Abbey, crafting an intricate chiselled depiction of its iconic architecture, presented on the front of the wooden box – the perfect tribute to the home of Coronation ceremonies since 1066. The inside of the box offers delicate illustrations of crests, jewels, and flowers significant to each of the countries forming Great Britain as well as being synonymous with King Charles III himself, symbolising the unity under the Crown and enduring solidarity between the nations.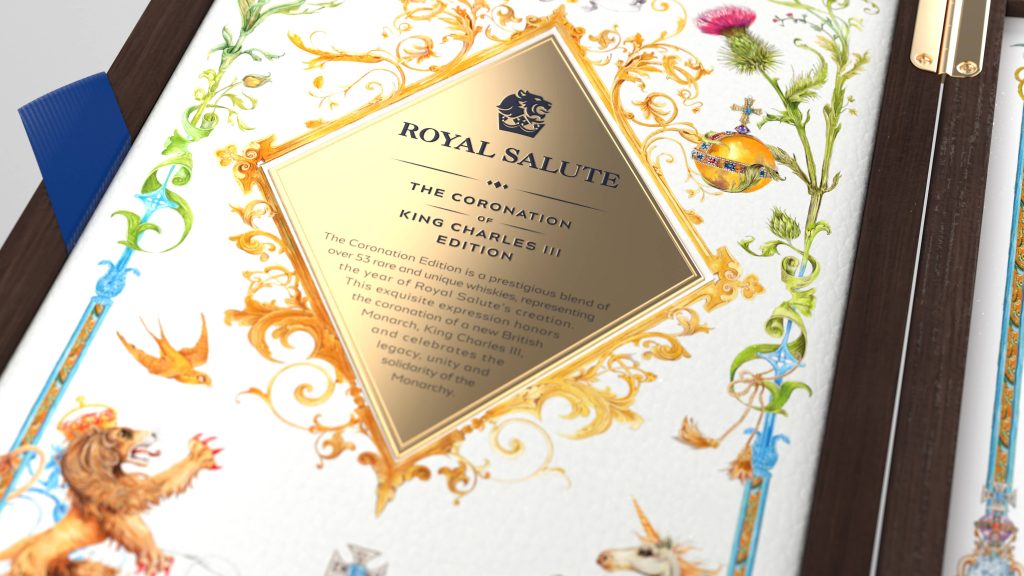 To hold this ultimate collectable whisky, Boundless Brand Design designed the pinnacle in premium packaging with a Dartington Crystal decanter, tinted in a deep sapphire blue hue, reminiscent of the precious stones set within the Imperial State Crown. A bespoke metal collar was added to the bottle bevelled with the sceptre and sword from the Crown Jewels, the ultimate Royal seal.
Only 500 precious bottles of the Royal Salute Coronation of King Charles III Edition will be available from April 2023, at selected specialist retailers for RRP $25,000 USD.
Hamish Shand, Founder and Creative Director says, "We have created the ultimate limited-edition for Royal Salute that fully encapsulates the celebration of the pinnacle of royal milestones. Each facet of the design is inspired by the home of royal ceremonies, Westminster Abbey, and embellished with jewels and crests that mark the unity of Great Britain and the reign of a new Monarch. It's the ultimate collectable".
Source: Boundless Brand Design