These days informed and tech savvy customers know what they want – easy interactions in an instant; and they'll reward companies that give them that. Creating a powerful and memorable experience can become more challenging.  Where customers see one problem, BT see the whole picture, bringing humans and technology together to make the complicated simple and the complex whole.
To illustrate this, BT worked with creative, data and tech agency Wunderman Thompson, and renowned artist Michael Murphy, a pioneer in perceptual art which places emphasis on the viewer's perception. His installations are required to be seen at all angles to understand the complete picture. Murphy gained notoriety when he created the first fine art portraits for Barack Obama in 2007 and has featured in TIME Magazine and New York Magazine. 
 
For BT the installation is made up of material relating to contact centre solutions, including headsets, lanyards, keyboards, routers and chairs. At first view the installation appears to be just a collection of objects. However, when viewers move around the installation it comes together to make up the word 'experience' from one angle, and a heart shape from another.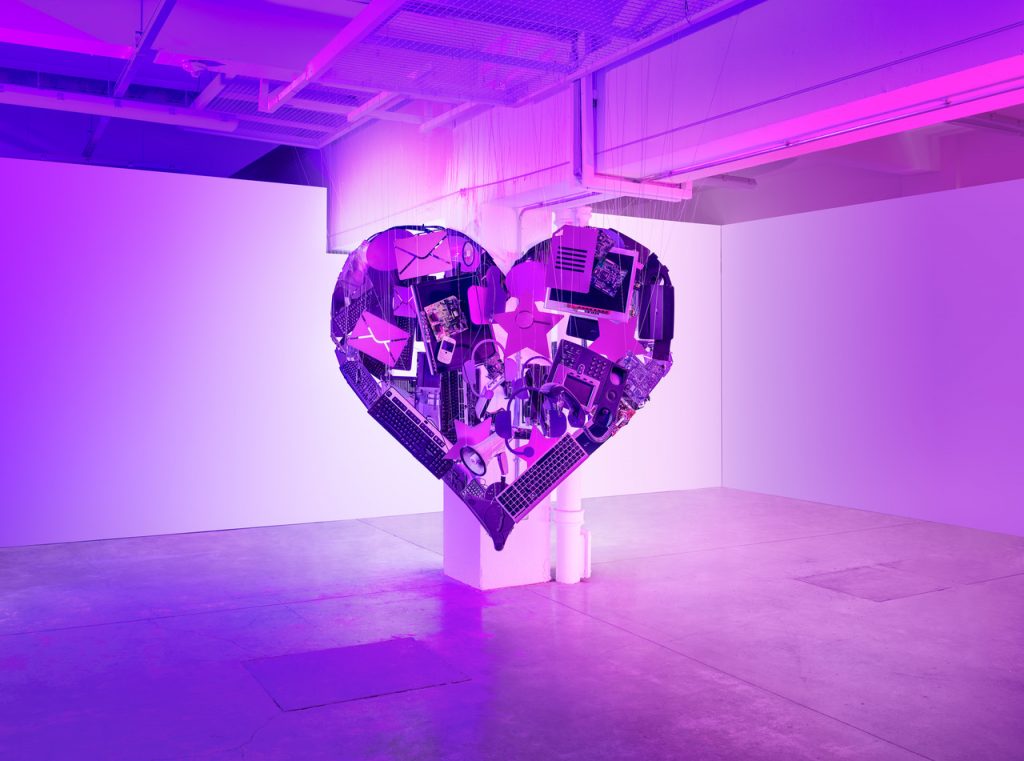 Antonia Barton, Marketing Director at BT's Global unit, said, "There's a lot that goes on behind the scenes at a contact centre, but our customers don't need to know, or worry about the details. What they need is a simple, seamless experience that delivers for their customers. This campaign perfectly captures the complexity we see at BT, but as the objects come together, we see a different viewpoint – a complete, cohesive image."
 
Paul Snoxell, UK Creative Director at Wunderman Thompson said, "Seeing the artistry and the precision that goes into Michael's work is awe inspiring. His creation is incredibly complex, yet the end result is so simple and effective. That's exactly the message we wanted to convey." 
 

Created and built in Shoreditch, 'Connected Experiences' reaches a global audience through a 'making of' film on digital channels from 1st February.  It comes just two months after another successful campaign with imagery drawn by illustrator Noma Bar.
Credits
 
Chief Creative Officer: Steve Aldridge
Creative Director: Paul Snoxell
Head of Art: Guy Sexty
Creatives: Antony Bell and Phil Siegle
Managing Partner: James Irvine
Business Director: Elrike Lochner
Senior Account Manager: Alistair Thomson
Strategy Partner: Martin Harrison
Senior Strategist: Antonina Mullen
Strategist: Rebecca Pinn
Film and Photography Producer: Jonah Werth
Project Director: Sarah Hayward
Senior Project Manager: Candida Wooldridge
Head of Live: Johnathan Terry
Event Manager: Chloe James
Director: Ant Jarman
Editor: Ant Jarman and Daryl Yeoman
Colour Grade: CODA
Photographer: Wilson Hennessey
DOP: Benjamin Sherlock 
Sound Operator: Nick Gillet and Marco Lavarone
Copywriter: Oriel Irvine Wells
Perceptual Artist: Michael Murphy
Source: Wunderman Thompson