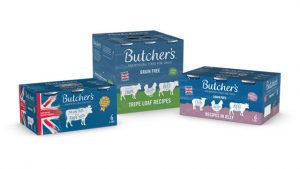 Butcher's Pet Care has appointed Birmingham-based creative agency, LIFE, as its strategic and creative agency. Rachel Collinson, appointed as Director – Food for Dogs, in 2017, was responsible for the hire.
Collinson has been the driving force behind the brand's recent packaging re-design and the removal of shrink wrap from its canned food – resulting in the equivalent of 4.2 million plastic bottles being removed from its supply chain.  
Earlier in 2019, Butcher's picked up the award for Best Brand Sustainability Initiative at Tesco's Household and Pet Supplier conference.
Commenting on LIFE's appointment, Collinson said, "We were very impressed with LIFE's excellent insight, and the understanding the team showed for our ambitions for the Butcher's Pet Care brand."

Managing Director at LIFE, Rachel Deacon, added: "It is impossible not to share the passion of the Butcher's team. They are utterly committed to providing good quality pet food that is accessible to everyone. We are incredibly proud to have been appointed and are looking forward to working with them to leverage their pet food heritage in today's market."
Source: LIFE