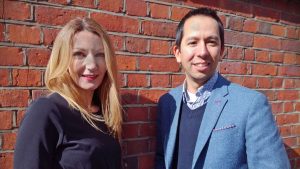 Influencer marketing platform Buzzoole announced the appointment of Damian Gillman as Head of Business Development and Sarah Whitfield (née Gavin) as Marketing Director.
Gillman brings to Buzzoole more than 17 years of experience across the media and content space and joins from MEC Wavemaker where he was Head of Content Partnerships. Whitfield was most recently VP of Marketing at Outbrain, where she was responsible for marketing and communication initiatives across EMEA, the Americas and APAC.
In his new role, Gillman will focus on growing strategic partnerships in the media and rights holder space. His extensive background in media and content partnerships will support Buzzoole's efforts to further integrate influencer marketing within the creative solutions that partners are developing with brands – using end-to end technology to move the needle significantly and deliver measurable audience engagement at scale.
"Influencer marketing has seen accelerated growth and Buzzoole's exceptionally strong start to the year is witness to the fact that over half of marketers will be looking to integrate it into their plans in 2018. I'm very much looking forward to taking Buzzoole's cutting-edge technology and unique measurement capabilities to deliver great partnership solutions for clients," said Gillman.
Whitfield will oversee Buzzoole's marketing in the UK, developing and implementing an international marketing strategy to increase brand awareness, drive growth and build a marketing community within Buzzoole.
"Buzzoole is committed to developing truly innovative ways to marry the art and science of creator marketing, and I look forward to playing my part in the next successful chapter for the company and leading the excellent marketing and communications team we have in London."
Prior to her role at Outbrain, Whitfield held diverse roles in marketing and communications, including VP Marketing, Europe at AOL & The Huffington Post and VP of Global Communications at social media platform, Bebo.
Announcing these appointments, Ian Samuel, CCO at Buzzoole, commented: "Gillman and Whitfield each bring more than 17 years' technology and media industry experience to Buzzoole. They worked in senior leadership roles at MEC, Outbrain, AOL and OMD, where they played a significant role in delivering excellent results for some of the biggest brands in the world."
He also added: "Buzzoole has grown to be the dominant influencer tech company in Europe. Our UK and U.S. based offices have doubled since May 2017 and we are delighted to be able to continue to attract amazing talent to deliver on our vision and continued international growth."
Buzzoole opened its London office in early 2016. In April it was selected to join the UK Trade and Investment's Global Entrepreneur Programme and in August 2017 it announced an exclusive collaboration with global measurement company Nielsen and a new measurement model, designed to help brands and agencies understand the true ROI of influencer marketing. In January 2018 it announced its US market expansion by opening a new office in NYC.
Source: Buzzoole