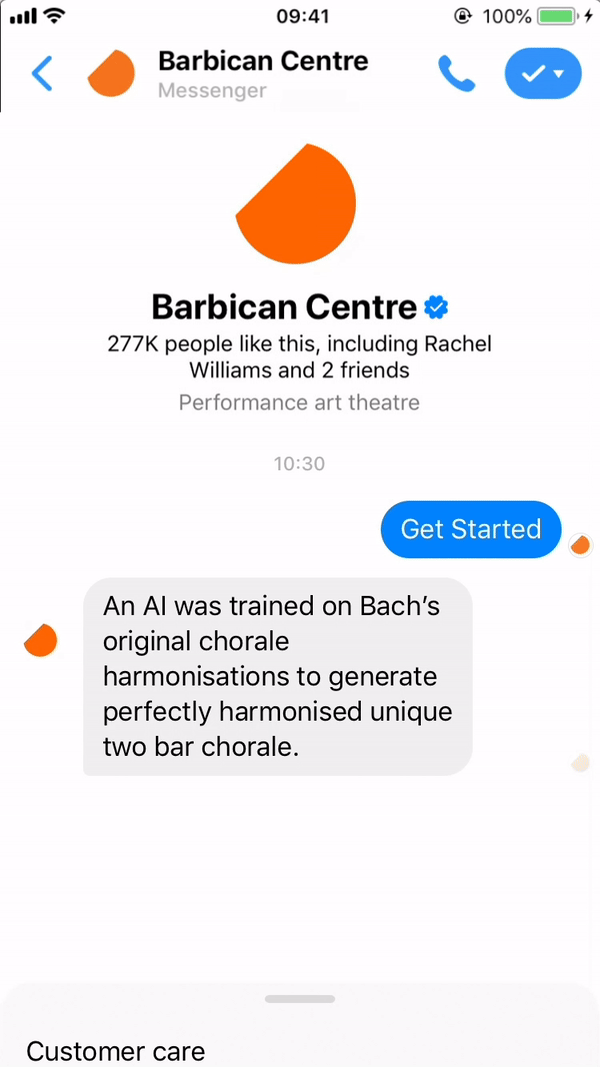 Byte, the marketing technology agency has, together with the Barbican, created a chatbot to provoke conversations around the role of AI in society.
The Facebook Messenger chatbot supports AI: More than Human exhibition which runs 16 May to 26 August and is part of the Barbican's Life Rewired – a season exploring what it means to be human when technology is changing everything.
To support the exhibition and widen the conversations around artificial intelligence, the Barbican worked with marketing technology agency, Byte, to create a chatbot aimed at stimulating conversations around the role of AI within society.
Appearing on the Barbican's website and Facebook page, the chatbot gives people the chance to engage further with the role of AI tech within different cultural arenas. The chatbot develops the conversation around four themes reflected in the exhibition – Why are you afraid of AI? Does data discriminate? Who's driving the car? and What makes us human?
Aimed at people who are not able to attend the exhibition in person, the chatbot extends the conversation around AI and gives people the chance to engage with important cultural issues.
Jamie Kenny, Byte's co-founder said: "We are extremely excited to see the launch of our chatbot to support this provocative and inspiring exhibition tackling questions at the forefront of our relationship with AI."
Byte London has developed a reputation for creating outstanding digital marketing for the likes of ASOS, Spotify and Nike. Since it launched in 2014 it has focused on driving revenue and results for clients through combining creativity and technology. 
Source: Byte