This is the question facing a group of students at Hyper Island, the creative and digital school of higher learning. As part of their learning module in the new program Digital Data Strategist, the students are tasked with creating online games about themselves.
The students are to learn about gaming and success factors in game design, incentives and motivations, and to explore legal and ethical boundaries while using personal and public data online.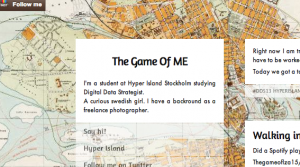 The aim is to give the students a hands-on experiences of working professionally with data, from a range of industry and user perspectives – from creating measurable and visual campaigns that engages the target audience, to having their lives mapped and analyzed in the public gaze.
If you want people to not only learn about data, but also experience its impact on behavior and performance, what would you do? We chose to let them become part of an experiment in which they not only try, feel and experience it themselves, but where they also get observed while doing it, said Jesper Åström, entrepreneur, data expert and lead industry curator of the current module in the Digital Data Strategist Program.
By letting the students create games about themselves, they go through all the steps needed to understand drivers of incentives, behavior, integrity and rewards. By thinking "inside the box" of themselves and through considering potential limitations (physical, psychological, financial and time), they will utilize their creativity in order to find the best possible solutions that serve their targets. In addition to getting experiences from their own games, the students will also learn the theoretical side of things through talks and panel discussions from industry experts on areas like legal and ethical issues related to the collection and use of data.
The Digital Data Strategist Program was designed to meet an increasing demand for a new breed of employees; the ones that know how to combine companies' own huge databases with the external data sources sprung out of the digital revolution – and make sense of it. By finding new ways to understand and use data, it is possible to develop brands, gain behavior insights and create digital and physical products, tools and services that the world has never seen.
It is not only analysts who will work with data. Looking ahead, examples of role that will change are those of marketers and business developers. Today it is possible to make data accessible to all. Therefore, we let the students learn to both understand as well as to visualize and create with data, said Sveinung Skaalnes, Head of the Digital Data Strategist program at Hyper Island.
Follow some of the students while playing:
Lisa, will explore and fall in love with Stockholm with the help of a dice, a compass, an Iphone, some friends, the Central Station in Stockholm and social media http://thegameoflza.tumblr.com/
Astrid plays to collect tools of knowledge and inspiration that will feed creativity. www.kwlczk.com
This will happen throughout the course:
Oct 8 – 12: 41 students create their own games
Oct 15 – 19: The games begin! During the week, the students will create an index that will merge the 41 games into one single game
Oct 22 – 26: Each student visualizes their own games with public data
Oct 29 – Nov 2: Final exhibition and presentations of the games and the students experiences. One aim is to determine the winner of the game. -Open to the public
To participate, to get in touch with Hyper Island and the students – Contact:
Sveinung Skaalnes, Program Manager – sveinung.skaalnes @ hyperisland.com
Erika Peterson, Relations Manager – Erika.petersson @ hyperisland.com