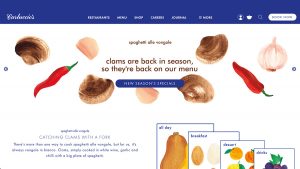 Carluccio's, the Italian high street restaurant business, announced a substantial digital overhaul that will extend the unique Italian food brand online. Partnering with BigCommerce, the leading eCommerce platform for fast-growing and established brands, Carluccio's relaunched website brings together for the first time rich content and online shopping in a single web experience.
The website, hosted on WordPress with commerce powered by BigCommerce, allows Carluccio's to have a best-in-class, content-rich web experience that serves both Carluccio's in-restaurant clientele as well as its growing audience of digital consumers.
This digital transformation comes as part of a £10 million investment and brand restructuring, designed to reinvigorate the restaurant's online and offline presence and elevate the guest experience. This is underpinned by the brand ethos of 'minimum of fuss, maximum of flavour', which was passionately championed by founder Antonio Carluccio, TV chef and godfather of Italian cooking.
Established in 1999, Carluccio's opened its first café in Market Place, London serving deliberately simple, authentic and affordable Italian food and drink made with the finest ingredients. Today the Carluccio's brand extends to 85 restaurant locations across the United Kingdom and Ireland, with another 14 in Turkey and the Middle East.
James Backhouse, marketing director at Carluccio's, is leading the brand reinvigoration and digital-focused strategy.
"Carluccio's is a brand that is built on brilliant people working in the business, suppliers creating amazing products, and the ingredients themselves," said Backhouse. "We are unusual in having both restaurants and delis retailing our products, and we wanted to bring this all to life in our online presence. Our aim was to develop a website that did the fundamentals really well – whilst also demonstrating the stories behind the brand and products, and linking seamlessly into eCommerce. To do this, we needed a platform that could strike the balance between traditional eCommerce and a content-rich website. This newly launched site has definitely accomplished that."
Eighty percent of the business' eCommerce volume comes from the two months leading up to Christmas. Knowing the importance of this high-volume period, the team was focused on getting the new site up and ready by the final week of October. The Carluccio's team needed a platform partner that understood both commerce and content-driven web design, had the ability to scale and could mobilise quickly.
Backhouse explained: "A SaaS eCommerce platform was critical to us; we are a small team and didn't want to have to deal with hosting hassles or the need for regular maintenance and upgrades that could interrupt uptime for the site. We also wanted a user interface that was fast and easy to use, with lots of functionality right out of the box."
Carluccio's ultimately selected BigCommerce for its ability to integrate with WordPress.
"The ability to seamlessly blend content and commerce enabled us to rapidly develop a modern website with powerful commerce capabilities using our preferred content management system," said Backhouse. "Launching a website of this calibre without adding technical complexity or extra people into our team was a massive accomplishment that was only possible through BigCommerce."
Mark Adams, EMEA general manager at BigCommerce adds, "Our entire eCommerce platform is built to be open, working in tandem with best-in-class technologies, enabling us to deliver the best possible functionality and capabilities for our customers based on their unique requirements. By levering BigCommerce for WordPress, Carluccio's has created an engaging, inspiring, story-driven site with embedded shopping intelligently incorporated throughout. Fusing WordPress' CMS with BigCommerce's powerful commerce platform means Carluccio's team can easily and efficiently manage product catalogues, inventory, orders, fulfilment and shipping, checkout and payment, all without technical overhead or complexity. This is what retailers expect of a modern eCommerce platform, and we are thrilled to help Carluccio's bring this to market in time for the holidays."
The new site, which took just three months to develop, launched in late October.
Source: BigCommerce