DFS has partnered with The LEGO Movie 2, the much- anticipated sequel to the BAFTA-winning The LEGO Movie, for its new Winter Sale campaign.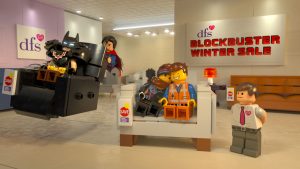 The TV and online ad shows the characters of the Warner Bros. blockbuster animation embarking on a mission to find themselves some comfy sofas and, in their words, "save our butts".
The ad, created by krow, opens with the key characters from the movie, LEGO Batman, Sweet Mayhem, Unikitty, Benny, Lucy and Emmet, piling on to a small uncomfortable sofa.
Led by Emmet, their quest for comfort brings them to their nearest DFS store where each of the characters finds the perfect DFS sofa for them, including a cool black recliner for Batman.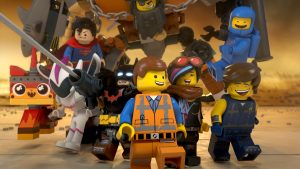 The campaign launches on TV and online on Friday, December 21st and will run for 11 weeks.
DFS Marketing Director Nick Ashworth said: "As brands, DFS and LEGO share the same commitment to bringing families together. For us, it's about bringing them the "joy of comfort", for LEGO it's about the "joy of building"." 
Jo Jephcott and Gemma Galvin, the creative team at krow, said: "Teaming up with The LEGO Movie 2 team was such an exciting creative opportunity. It's not every day you get to work with movie stars as big, or as little, as LEGO Batman and Emmet. The films are loved by children and parents alike making it a perfect partnership for DFS."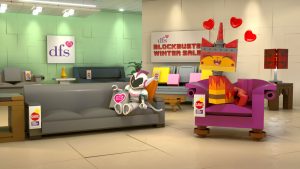 Danni Murray, VP Media, Digital and Marketing Partnerships from Warner Bros added: "We're really excited about this wonderful partnership campaign created by krow, helping the brilliant characters of our new LEGO feature film discover the joy of comfort with DFS, in a fun and entertaining way which will appeal to the whole family."
The LEGO Movie 2 is released on February 8th, 2019.
Source: krow