[KGVID width="600″ height="338″]https://marcommnews.com/wp-content/uploads/2016/03/BBC_Microbit_30s_WIP.mp4[/KGVID]
Schoolchildren give their unique take on where technology will go in the next thirty years in the new BBC Masterbrand campaign for BBC micro:bit.
BBC micro:bit is a pocket-sized, codeable computer that allows young people to get creative with technology, and it is being supplied to around one million Year Seven or equivalent school children this year for free. It aims to inspire digital creativity and help develop a new generation of tech pioneers, in a bid to address a growing skills shortage in the UK's technology sector.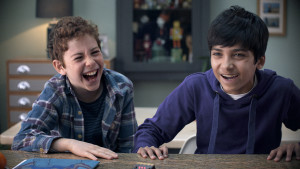 The campaign, created by RKCR/Y&R, centres on a TV trail showing children – the people that will create the future – talking about the incredible ideas that their BBC micro:bit's could help make a reality. Their predictions include hover shoes, wifi-enabled clothes, and 3D hologram phone calls with your nan.
The campaign launched across BBC channels from Saturday, March 12th.
Alison Hoad, RKCR/Y&R said: "The best briefs start with the biggest ambitions and what could be more apt for today's world than BBC micro:bit, which kickstarts 1 million kids' imaginations as to what the future will bring."