Co-op has combined the scale and reach of out of home with the performance capabilities of social and mobile display to create a powerful location-first advertising campaign to drive awareness of the "Co-op Health" NHS repeat prescription service, whilst encouraging registrations via the website or app.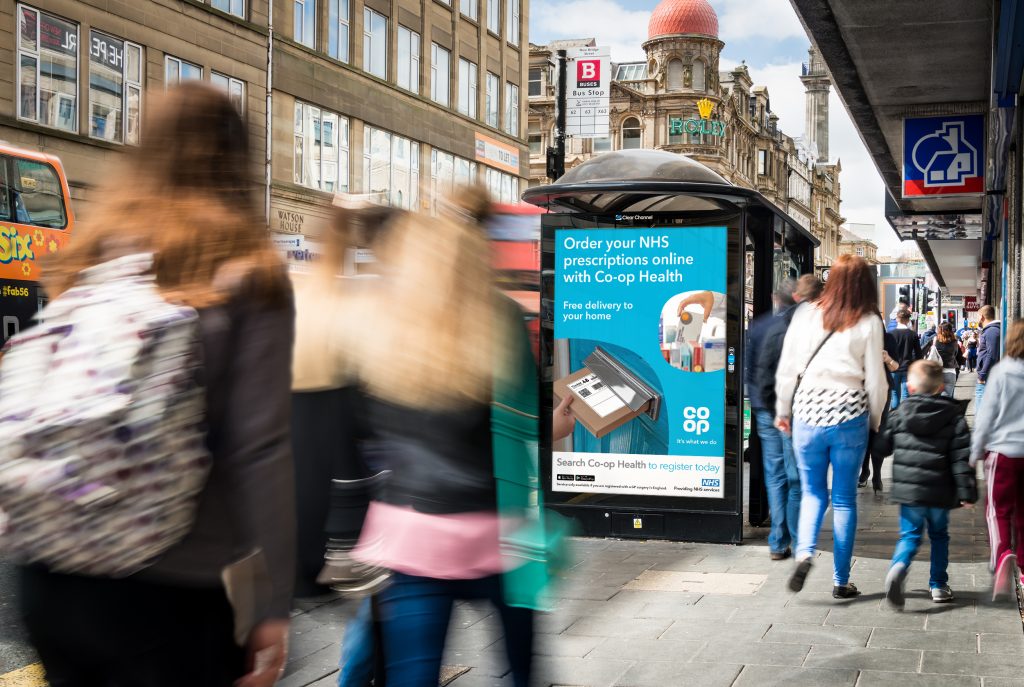 The highly targeted campaign is running across England and features classic and digital out of home frames ringfenced by geo-targeted social and mobile display ads to deliver a multiplier effect designed to encourage people to register for the service online and download the app.
Co-op Health is the first online pharmacy to enable customers to access its repeat prescription service using their NHS login, and get their prescriptions delivered to their homes free of charge, or to local Co-op stores.
Devised by out-of-home (OOH) and location marketing specialist Posterscope, in collaboration with Carat UK, the campaign launches this week and runs until September 20, as part of a wider campaign featuring radio and print ads.
Rachel Rowe, E-commerce Growth Lead at Co-op Health said: "At a time when it's never been more important to look after ourselves, the Co-op Health website and app empowers people to manage their own health securely and conveniently. By being able to use their NHS login even more people can now easily take charge of their repeat prescriptions in real time and get delivery direct to home. Out of home has demonstrated its effectiveness across other parts of our business so we were keen to factor it into this campaign."
Lee Mabey, Integration Strategy Director, added: "Out of home can play a powerful role in brand performance campaigns, both in terms of driving awareness and acquisition, so it's great to see Co-op Health using the medium as part of an broader location approach combined with online."
Jess Batiste at Client Account Director at Carat, concluded: "With a need to drive consideration among a broad audience, out of home was a natural fit for the media plan, as it adds scale and reach to the campaign, which is multiplied and strengthened when combined with a geo-located digital campaign."
Source: Co-Op Health