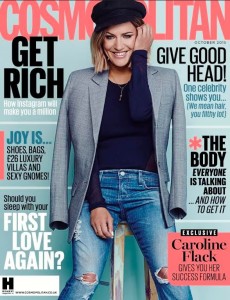 Hearst Magazines is set to release a new look for Cosmopolitan magazine from September 2.
The refresh is the first tangible results of a marketing and distribution strategy for a suite of titles including Good Housekeeping, ELLE and Harper's Bazaar.
The new look is being overseen by Cosmopolitan UK editor Farrah Storr and is available now on its Snapchat Discover channel, where up to 12 stories will be published in each daily edition at 11am.
This approach has already has been driven by recent app updates which have boosted traffic by as much as 70 per cent with some content being shared up to 200,000 times. Digital audiences have expanded 135 per cent in the past year with an average of 6.5m unique visitors every month in the UK.
To continue that growth new audiences are being targeted in shopping centres, cinemas, gyms, coffee bars, university campuses and places of work with new content spearheading a fresh focus on beauty, instructional fashion and a new food and travel section.
Storr said: "Women are more brilliant and more demanding than ever before and as a brand Cosmopolitan has to lead the charge. Everything about the new Cosmopolitan will be sharper, smarter and bolder than ever before because that's what this generation of women are."
Hearst Magazines UK CEO, Anna Jones, added: "Cosmopolitan is an incredible brand which reaches millions of women worldwide and engages with them in a variety of ways. Our new marketing strategy, which incorporates the Snapchat partnership, pop-up events, and activity at cinemas and shopping centres is a way of getting our brilliant content out to an even bigger audience."
A 'click to buy' initiative will also enable readers to pick up copies direct from Cosmopolitan.co.uk or via their Facebook account and the title will also be made available in a new midi size format.